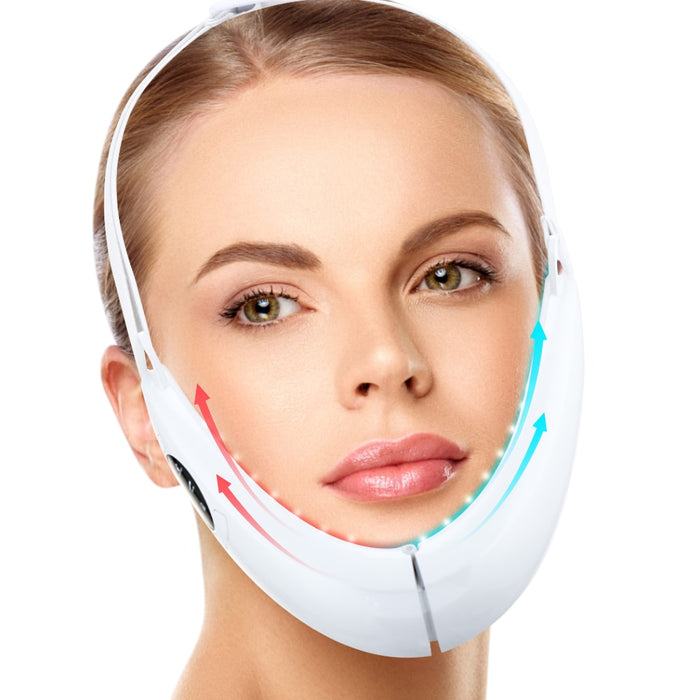 V-Line Face Slimming Lifting Double Chin Removal Massager
Original price
$57.90
-
Original price
$57.90
30 Day Money back guarantee
"It definitely improved the elasticity of my skin, and I love that its hands-free!" - Gabrielle Monaco
You can finally get rid of that double chin and achieve the perfect V-line! A combination of blue and red-light therapy targets excess fat and sculpts your chin area leaving you with flattering facial contours. It's easy to use, safe, and it simply works.
Do you have a double chin and you have tried anything to get rid of it for a slimmer face? 
Don't worry, Using our V-Line Face Slimming Lifting Double Chin Removal  Massager to slim down your face with V face. You only need just sit down on your couch or lie down on your bed to get a result of a beautiful V shape face at your comfort home.
This V-Line Face Slimming Lifting Double Chin Removal  Massager does not require you to do any chin or face exercises for the jowl and neck area. Just place it on your chin and relax while the device does all the work for you. This device uses EMS Microcurrent technology to target and stimulate the muscles and helps to lose fats around your cheeks, chin, and jaw area. 
Feature:
V Face instrument, go deep into the skin layer, improve blood circulation, stimulate cell growth, give skin complement moisture, delay the aging of the skin in combination with EMS mode, tighten contour, improve stereo feeling, made V-shaped face, helps to repair and maintain the skin elasticity and the outer layers of the skin nutrients penetrate into the dermis.
Red light irradiation: improve the activity of skin cells, promote metabolism, make skin secrete a large amount of collagen, and fill the fibrous tissue itself. Promote blood circulation, enhance skin elasticity, anti-aging, anti-oxidation, skin repair.

Blue light irradiation: can quickly inhibit common skin inflammation, calm the skin and regulate the secretion of keratinocytes, clean and protect the skin, enhance the absorption and repair of the skin, balance the skin oil, whiten and lighten spots, tender skin, eliminate wrinkles, and shrink pores.

EMS microcurrent: release intermittent pulse current, stimulate ATR generation, and stimulate human subcutaneous tissue through EMS microcurrent, improve face muscle fiber elasticity, activate collagen activity, and tighten skin.
Package Included:
1* Main Unit with Fixing Belt
1* USB Cable
1* User Manual