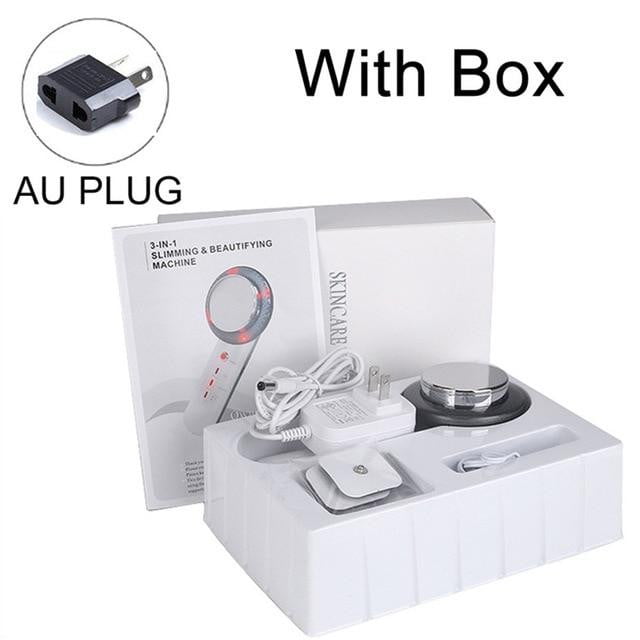 ULTRASONIC CAVITATION SLIMMING MACHINE ( 3 IN 1 )
Save

51

%
Save

51

%
Original price
$98.90
-
Original price
$98.90
30 Day Money Back Guarantee
Our 3 in 1 Ultrasonic Cavitation Machine: The World's Most Effective Slimming Solution!
Ultrasonic cavitation is a weight-loss treatment that uses low-frequency sound waves to burst fat cells. Cavitation treatments at local beauty centers can cost upwards of hundreds of dollars for a single session! Why pay so much when you can have as many treatments as you want in the comfort of your own home?
Add to cart now and start targeting problem areas with our Ultrasonic Cavitation Slimming Machine and see visible results within 4-5 days! 
Effective 3 in 1 Slimming Device
EMS


5 Modes of EMS (Tapping, Massage, Knead, Scrapping, Slimming), 5 intensity selections, choose one that works best for you.
Infrared


Infrared heat sensors penetrate deep into skin, so you can feel the heat generate and soothe.
The infrared ray can restore the elasticity and active the cells more thoroughly.

Ultrasonic


Ultrasound technology helps slim down fat by decreasing waste around fatty tissue and tightens skin.

 The machine has three main functions:
E

lectrical

 M

uscle

 S

timulation works by  sending small, precisely timed electrical pulses via gel pads to the nerve supplying the target muscle. These pulses act as a message, telling the muscle fibers to 'contract'. These signals activate the nerves which in turn switches on the muscles. 

EMS results in the same end result as working out in the gym – muscle activation!

  The premise being, if you activate a muscle strongly enough, enough times, over a sufficient training period the end result will be a muscle training effect.
Ultrasonic fat reduction uses highly focused sonic waves to break down fat cell walls in the treatment area, thereby releasing the fat inside to be metabolized by the body and reducing the size of a fat deposit. The ultrasound energy transmits through the skin, creating rapid pressure changes that cause the fat cells to break down while leaving surrounding tissues unharmed. 
Infrared therapy uses red light therapy to reduce the volume of subcutaneous fat cells. Instead of removing or destroying fat cells, photonic lypolysis, or "red light therapy," delivers specific wavelengths of light through the skin using a specialized lamp. This light triggers selected fat cells to create small openings and release some of their contents, thus helping them shrink in size.
Limited special offer: (link below)
Useful Information
Ultrasound Fat Cavitation Therapy Is Versatile

Ultrasound fat cavitation can be used on virtually any area of your body where you're carrying extra weight. Common treatment spots include the belly, thighs, buttocks, or back.

Ultrasound Fat Cavitation Therapy Is Non-Invasive

Unlike liposuction, ultrasound fat cavitation doesn't require any surgical procedures – so there's no anaesthesia, no blood, and no bandages. Instead, the treatment relies on low-frequency sound waves to help you lose inches, without causing any bodily trauma.

Ultrasound Fat Cavitation Therapy Is Natural

Fat cavitation therapy uses low-level ultrasonic waves to break your fat cells down into a liquid while leaving surrounding tissues intact. Once the fat cells have liquefied, they're eliminated from your system using your body's own natural elimination processes.

Ultrasound Fat Cavitation Therapy is Painless

During and after the procedure, you shouldn't experience any discomfort. At most, you may feel a gentle warming sensation as the Ultracavitat works its way across your skin.

Ultrasound Fat Cavitation Therapy Is Safe

Ultrasound is routinely used for many diagnostic and therapeutic medical procedures. There's no risk involved, especially when compared to other methods of fat reduction that require invasive surgical procedures.

Ultrasound Fat Cavitation Therapy Is Fast

Each fat cavitation therapy session only takes 20-60 minutes, making it the perfect lunch-hour treatment. There's no downtime, and the only thing you'll need to do to prepare is drinking plenty of water.

Ultrasound Fat Cavitation Therapy Is Immediate

Results are often visible right away – sometimes, you can see a difference immediately after your very first treatment. Optimal results begin to show in as little as 72 hours. Depending on your individual body composition, you may need six to twelve treatments in order to achieve your goals.

Ultrasound Fat Cavitation Therapy Is Easy

Aside from increasing your water intake, eating healthy, and maintaining a moderate exercise program, there's nothing else you need to do to reap the benefits of ultrasound fat cavitation therapy.

Ultrasound Fat Cavitation Therapy Is Effective

When diet and exercise fail, ultrasound fat cavitation therapy offers a solution that works. You can reshape your body, banish cellulite, and feel good in the skin you're in.
Please note for best results this product is to be used in conjunction with a healthy balanced diet and exercise. 
This product is not suitable for the below people:
Cancer patients

Pregnant

Diabetics
 RISK FREE SHOPPING
We truly believe in our product therefore as standard we offer a risk-free 30 day guarantee. If you don't want to keep your product, no problem we will sort it.
Your satisfaction is important to us and we will go that extra mile to ensure you are happy with your purchase. We offer 24/7 email support so do not hesitate to contact us.
We offer a risk free service as we know buying online can be daunting, your online security is key to us and therefore we are certified Level 1 PCI DSS Compliant, giving you the peace of mind to enjoy your shopping experience with Youreka Store.
All orders are shipped within 24 to 48 hours of you placing the order using DHL eCommerce, USPS or ePacket depending on your location and fastest available service. Typical delivery time frame is between 10 to 21 business days or 20 to 40 days in Europe however, you may receive your items much earlier.