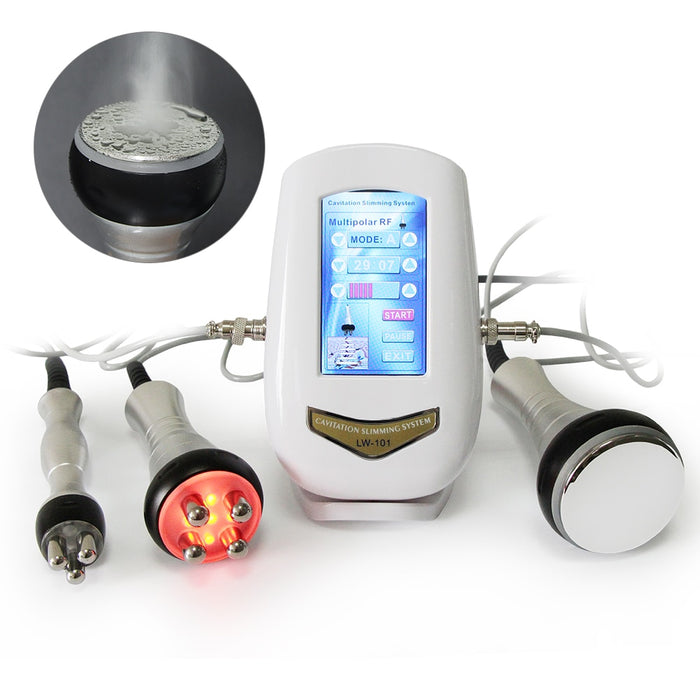 Ultrasonic Cavitation Machine
Original price
$0.00
-
Original price
$0.00
30 Day Money Back Guarantee
This Professional Ultrasonic Cavitation Device focuses RF energy at the correct position to realize the effects of skin rejuvenation and body reshaping. It can effectively burn calories, so as to achieve the effect of the removal of fat. At the same time, it will promote metabolism, so as to restore elasticity, calming, and moisturizing effects for your skin. It includes three functional beauty heads to treat different skin problems on both face and body. If you use our machine, you will find how amazing it is!
FEATURES 3 DIFFERENT HEADS
This device comes with 3 different heads to treat different body parts and ensure its high efficacy!
The Cavitation Head is effective for:
✅ Effectively decompose fat
✅ Tightening skin
✅ Reduce cellulite
✅ Suitable for the entire body
The Three Pole Head is effective for:
✅ Repairing skin
✅ Helping with the formation of new skin
✅ Anti-aging
✅ Skin rejuvenation and facial care
The Four Pole Head is effective for:
✅ Helping remove facial wrinkles
✅ Eliminate extra fat
✅ Shrink pores, tighten loose skin and remove double chins
✅ Increases metabolism & enhances luminosity of the skin
HOW DOES IT WORK?
Our Professional Ultrasonic Cavitation Device uses 2 different technologies to give you the best skin care on the market:
Ultrasonic Cavitation:
Ultrasonic Cavitation is the perfect treatment for people who want to reduce stubborn fat and contour their body. Cavitation destroys fat cells by using low frequency ultrasound. The ultrasound waves are conducted through the skin, penetrate directly into the adipose tissue and break it up into small pieces causing micro-bubbles which turn fat into a liquid substance (this phenomenon is called "cavitation"). Once the fat cell is destroyed, it is removed from the body via your lymphatic and urinary system. It is comfort, painless and a non-invasive fat and cellulite reduction process. You can see immediate result and will continue to see results in the reduction of fat and cellulite up to 3 days following treatment. The most common treatment areas are the buttocks, abdomen, love handles, upper arms, inner thighs and the chin area. It is especially effective in the removal of cellulite. 
Radio Frequency:
Using the unique deep-heating technology (radio frequency plasma technology), it can change the collagen formation and encourages fibroblast migration and laying down of new collagen. RF technology rapidly changes electric field polarity which alternately attracts and repels electrons and charged ions in the dermis and subcutaneous tissue. The tissue's natural resistance (impedance) to this movement produces heat and the thermal effect on the dermis leads to collagen stimulation and activation of fibroblast cells. Collagen contraction and tissue tightening are followed by new collagen production over time. As no current flows through the epidermis, the skin surface is not exposed to heat and no superficial cooling is required. RF can be offered for the improvement of skin laxity, wrinkles and facial contours. This procedures stimulates collagen and elastin production to improve skin tone and texture, minimizing the appearance wrinkles in the process. Treatments can also help reduce the appearance of cellulite by affecting fibrous tissue.