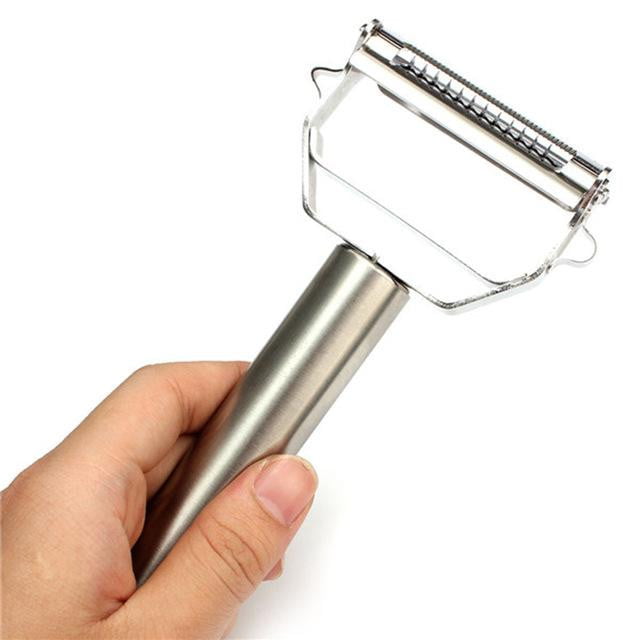 STAINLESS STEEL MULTIFUNCTION JULIENNE PEELER
Save

40

%
Save

40

%
Original price
$29.99
-
Original price
$29.99
30 Day Money Back Guarantee
Julienne peeler for creating strips, peels and regular cuts of fruits and vegetables
Made with stainless steel
Has a serrated part for making veggie noodles, a peeler, and side stripper
Measures at 7 inches x 3.2 inches
Weight: 80 grams
Package contents: 1 x Julienne peeler
JULIENNE PEELER STAINLESS STEEL TOOL
Julienne peeler kitchen tools are staples in serious French kitchens. The technique called Julienne is a French cut of long, vegetable strips and are typically a regular in French cuisine. When your knife skills fail you, opt for the Julienne Peeler Stainless Steel Tool.
HIGH-PRECISION STAINLESS STEEL
This julienne peeler and cutter is stainless steel all over with special blades that create the long thin strips. With this cutter, you can create flat long peels, long shreds, and the standard pieces of vegetables. Julienning is quite popular because preparing produces this way makes it easier to cook and eat. You may even create gorgeous plating of garnish with the following cuts. The cutter is very sharp and can also tackle hard vegetables like butternut squash. With just a few strokes, you can get smooth cuts of fruits and vegetables effortlessly. You'll never have to worry about damaging and wasting food. The julienne peeler has three different parts for cutting: the stainless steel teeth, the peeler, and the side shredder. Create the best meals with this excellent peeler.
WHY GET THIS PEELER?
Julienning vegetables can improve food presentation. Your knife skills, however, can make or break that presentation. To foodies and chefs, fruits and vegetables with rough cuts won't make it to the menu. When you still don't have that restaurant-worthy knife technique, the next best thing is to get this Julienne peeler that you may use at home to serve your family a delicious meal. It's also dishwasher safe, and storage is natural that you can hang it upside down. When you have many different sorts of produce at homes such as carrots, potatoes, cucumbers, squash, radishes, and more, improve your Julienning technique by using this peeler. Not only will you be serving excellent meals, but your family will also appreciate your care about how it looks, too.
ORDER TODAY AND GET FREE SHIPPING!!!