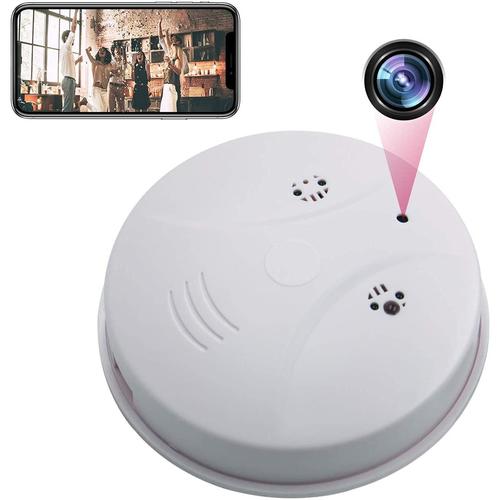 SMOKCAM™ Smoke Detector Camera
Save

43

%
Save

43

%
Original price
$69.90
-
Original price
$69.90
30 Day Money back guarantee
the Ultimate Hidden Smoke Detector Camera – Your Unseen Guardian
Enhance your security measures with the cutting-edge innovation of a hidden smoke detector camera. Combining the functionality of a smoke detector with discreet surveillance capabilities, this device offers unparalleled peace of mind. Safeguard your space effectively, whether it's your home, office, or any other valuable environment.
Our hidden smoke detector camera seamlessly blends into its surroundings, remaining virtually invisible to the naked eye. Designed with meticulous attention to detail, it mirrors the appearance of a standard smoke detector, ensuring that no one will suspect its true purpose. This covert camera empowers you to monitor activities discreetly, keeping a vigilant eye on what matters most.
Equipped with advanced technology, this hidden gem boasts high-definition video quality, capturing every detail with exceptional clarity. Live stream or record footage directly to your preferred device, enabling real-time monitoring or later review. Its intuitive app compatibility ensures seamless remote access, allowing you to stay connected even when you're away.
Installation is a breeze, requiring minimal effort. Simply replace an existing smoke detector with this covert camera, and you're ready to start enhancing your security. The camera's wide-angle lens provides comprehensive coverage of the area, minimizing blind spots and maximizing your awareness.
Whether you're concerned about the safety of your family, the security of your assets, or the monitoring of your workplace, the hidden smoke detector camera offers an elegant solution. Disguised as an everyday necessity, it empowers you to take proactive measures in safeguarding your space without raising suspicion.
Invest in the future of security technology and enjoy the benefits of an inconspicuous yet powerful surveillance tool. Elevate your protection game with a hidden smoke detector camera – the guardian that watches without being seen. Discover the peace of mind that comes from knowing you're always in control, no matter where you are.
Installation process
Rotate the product counterclockwise, take out the chassis, then fix the chassis to the ceiling or wall with a spiral knife, and then turn clockwise to install the product back.
Video Resolution

 

- 1920X1080p

Audio

 

- Two-way audio support with a built microphone and a speaker

APP

 

- 

Ubox, IOS10.0, Android5.0 version and above

Support

 

- 

Sd Card Storage  up to 32GB

Single package size

 

- 15X10X10 cm
Camera Smoke Detector * 1
USB Charging Cable *1
Manual * 1
SHIPPING INFORMATION
Domestic Shipping (UNITED STATES):
Your order will be packaged and shipped within 24 hours of ordering. Tracking info will be emailed to you once the order has been shipped. Shipping will take 4-7 days. 
OUR GUARANTEE:
We believe our products can help people's everyday lives, and we fully stand by our products. We offer a risk-free 30-day guarantee on all our products. If you don't have a great experience, we will ensure you are satisfied with your purchase. We also offer a 1-year free breakdown warranty on our products.