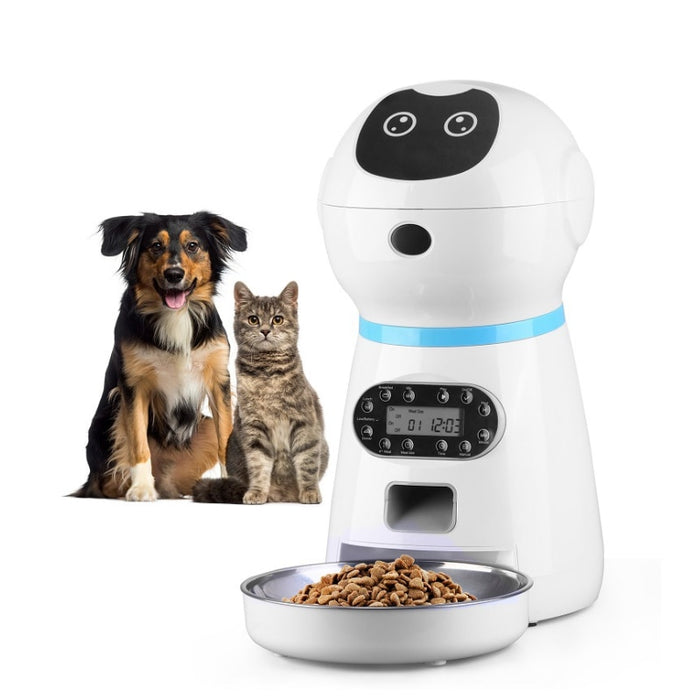 Smart Automatic Cat Feeder
Original price
$99.00
-
Original price
$99.00
30 Day Money Back Guarantee
Button Protection Design
Special button protection design, your feeding schedules won't be changed even if your pets accidentally touch it. User-friendly design makes it easy to set up.
Accurate Dispense
With accurate dispense, the feeder can keep your pets in good health, and the stainless steel food tray is also easy to clean.
Voice Record
Adopts voice record function helps you care for your pets at any time. To record a voice to remind your pet of a meal, you could record your voice for 10 seconds.
To active the instant feeding function, you may long-press the "Manual" button, and the feeder will rotate by one grid.
Setting the Meal Size
The meal size is about 5g per portion. You may set the meal size to 1-20 portions according to your pet. This feeder is suitable for small and medium-size pets. For example, poodle, Pomeranian, Shepherd, Bichons Frises, Cats, etc.
Eco-friendly and Nontoxic
The pet automatic feeder is made of imported environmental protection ABS materials, non-toxic and food grade.
Detachable and anti-slip
Detachable food tank which is easy to clean. And the base is stable and anti-skidding which can better protect your pets.
Notes:
The product needs to be equipped with three No. 1 batteries. The product does not include batteries and needs to be purchased by you.