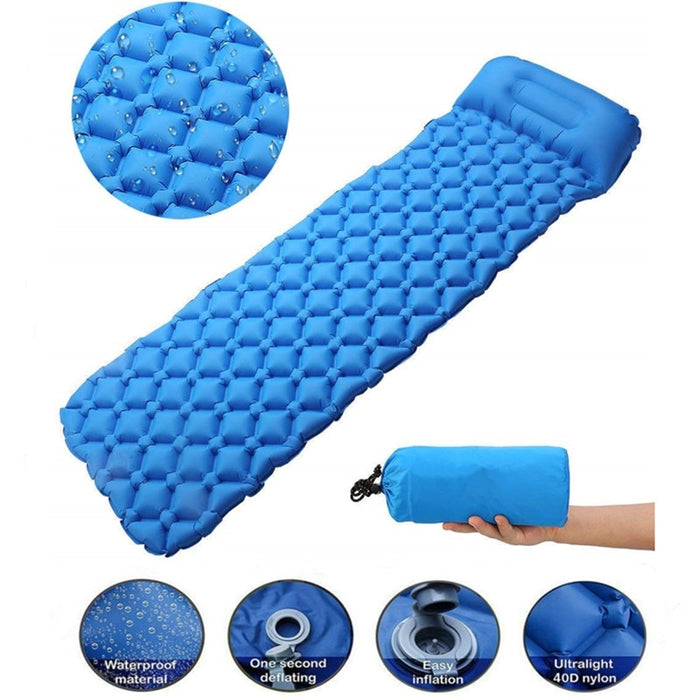 SleepKing - Inflatable Camping Mattress
Save

40

%
Save

40

%
Original price
$99.99
-
Original price
$99.99
30 Day Money back guarantee
Sleep Like The King Of The Jungle In The Outdoors!

Just because you're out in nature doesn't mean you have to rough it and sleep on rocks! Grab SleepKing our ultra-comfy inflatable camping mattress and ensure that you sleep like royalty!
No matter whether you're out in the woods, or traveling cross country our inflatable travel mattress will give you the ability to skip the expensive hotel bill.. one skipped hotel pays for this comfy bed!
This amazing travel mattress will put your mind at ease not having to worry about where you're sleeping tonight. It removes the stress of logistics and it removes the need for expensive hotels!
TravelSleeper is an indispensable tool for any wandering nomad or anyone that's on a road trip.. moving, sightseeing, lost? Doesn't matter, this mattress will give you a place to rest your head
So if you're looking for a way to travel abroad in comfort.. or you're just looking for a perfect gift idea for a fellow traveler, grab TravelSleeper and enjoy a restful & enjoyable road trip experience!
Benefits of SleepKing
1. Extremely Durable: As hikers & campers ourselves, we were sick and tired of having mats pop on us! This is why we made sure the mattress we created wasn't going to do so... We use durable dual-layered material for ultimate resistance.
2. Ultra Lightweight: The typical outdoor mattress weighs 1-2kg / 2-4lbs! Ridiculous. With a finished product weight of only 500 grams / 1.1 lbs, we made it our goal to minimize the weight of our mattress as much as possible. 
3. Super Compact: One of our customer's favorite features of this mat is the fact that it is as small as a water-bottle when it's folded and stored in it's carrying bag. Nothing is worse than a bulky sleeping mattress swinging around on the side as you walk.
4. Maximum Comfort: Do you suffer from backache and neck pain every time you go camping? We certainly did... This is why we tested and tested the comfort of our mattress with thousands of people until it was made to be one of the most comfortable rated mattresses ever. With 144 insulated flexible air cells that contour to the exact shape of your body, the expert design of this pad will help you achieve a comfortable night's sleep no matter where you are.
5. Cold Protection: Your body absorbs the cold 10x faster from the ground than it does from surrounding cold air. So when camping, the last thing you want is a mattress that does this too. That is why we have an ergonomically designed, multi-layer system inside our mats to ensure absolutely minimal heat will be passed from you to the ground, achieving an R-value of 4.2.
6. Built-In Pillow: The top of the mattress is padded in the shape of a pillow to provide a proper cushion for your head and neck, which is critical to your comfort and a night of good sleep.