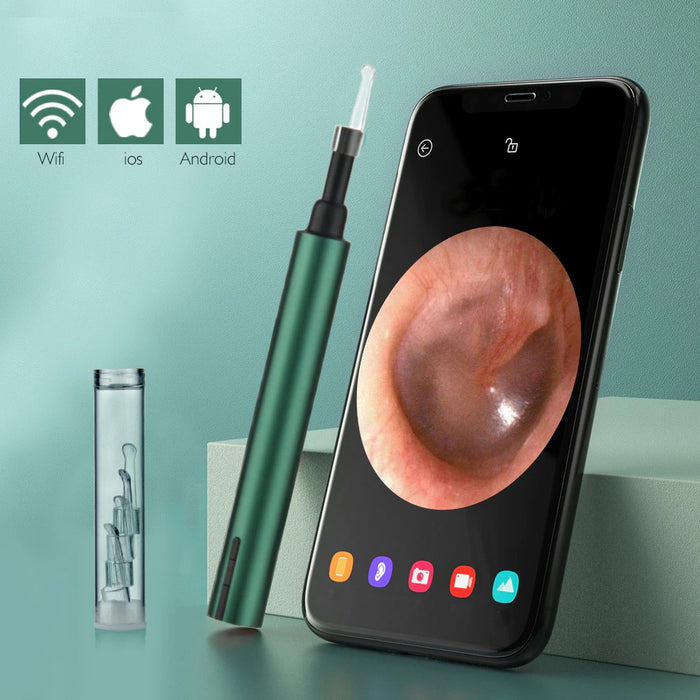 Pro Smart In-Ear Cleaning Endoscope
Original price
$59.90
-
Original price
$59.90
30 Day Money Back Guarantee
Cleaning out your ears with a cotton swab, ear Pick or finger is a bad idea that could potentially cause ear damage. Instead, enjoy the World's Safest Ear Cleaner and get a clear look inside your ears like never before. Our Wireless Ear Cleaner streams a full view of the inside of your ear to your iPhone or Android device. Connects seamlessly over WiFi.
GET A CLEAR LOOK INSIDE YOUR EARS & GENTLY SCOOP OUT STUBBORN EARWAX.
This Wireless ear scope has a 360°wide-angle professional-grade lens and creates a large coverage view to help you remove the earwax much easier. With a high-quality 1080P (3. 0MP lens) full HD resolution you can clearly see inside of your ears.
SAFE FOR THE WHOLE FAMILY. EASY TO USE & PAINLESS
This Wax Removal Kit can reach deep into the ear canal. A protection ring is used to protect the ear of your baby. The 6 strong lights can help you light up the canal and see the dark place clearly.  Also, don't worry about the bebird getting hot or cold, the build-in system will keep it at a constant temperature.
EASILY USABLE FOR MULTIPLE APPLICATIONS
You can conveniently use it for daily inspection of the ear, nose, mouth, throat, and other health conditions. You can take care of your family's or friend's health and even your pets
WIDE COMPATABILITY
This Wax Removal Kit can work well with all Android and IOS devices.
This probe is IP67 rating waterproof, so you can clean it directly with water.It also allows you to save photos and videos, you can send them to professional for a quick and easy consultation
Compact and portable, mini-sized design let you enjoy the fun of cleaning your ears while traveling and outdoors.
Packing List:
1* WiFi Otoscope
2* Earpick Tips
1* Charging Cable
1* User Manual