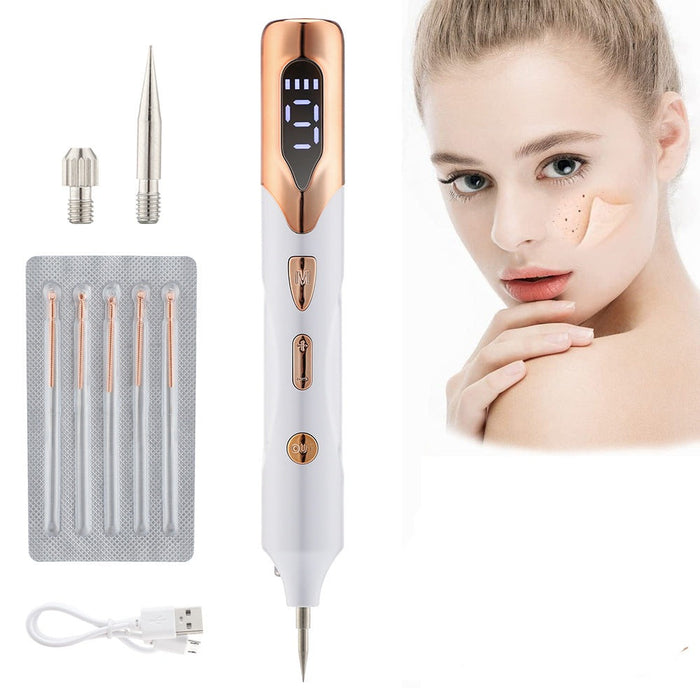 WarioxPen™️ Mole Removal Pen
Save

37

%
Save

37

%
Original price
$79.90
-
Original price
$79.90
30 Day Money Back Guarantee
SAY GOODBYE TO UNWANTED FINE LINES, MOLES, SKIN TAGS, AND BLEMISHES
With the WarioxPen™️ mole & skin tag remover, you can achieve incredible professional-grade results at home without breaking the bank.


Fibroblast therapy works by stimulating your skin's natural processes and acting as a catalyst for collagen, elastin, and hyaluronic acid. 
Because these elements are the secret ingredients to smooth, firm, and healthy skin, boosting their production is a simple and effective way to turn back the clock. Your body already knows what to do; we're just helping it do it better and more efficiently, in a way that serums and skin creams can't do alone.
The WarioxPen's state-of-the-art technology uses ionized carbonization to generate a small plasma charge, which naturally stimulates your skin's fibroblast cells. The tissues instantly retract and tighten giving you more youthful-looking skin and increasing collagen production over time.
WHY PEOPLE CHOOSE OUR WarioxPen™️
✅ Natural looking results without expensive plastic surgery.

✅ No scalpels, no cutting, no stitches.

✅ Trusted and proven results by thousands of users.

✅ Promotes skin rejuvenation and increased collagen production.

✅ 9 different levels let you customize your personal treatment.

✅ Precision tip for accurate targeted skin application.

✅ Professional-grade technology that's safe to use at home.
SAFE. EASY TO USE. AFFORDABLE
With the WarioxPen™️ Mole & Skin Tag Removal Plasma Pen, you can:
👉 Tighten the skin on the face and neck to reduce the appearance of fine lines, wrinkles, crow feet, frown lines, and smoker's lines.

👉 Treat skin lesions such as skin tags, moles, warts, fibromas, keratosis, and other skin imperfections.

👉 Reduce the appearance of freckles, age spots, sun spots, acne scars, stretch marks, surgical scars, tattoos, and pigmentation on the face or body.

👉 Stimulate your body's natural collagen production to rejuvenate the elasticity of your skin, and it's ability to heal.

👉 Promote a healthy and beautifully clear complexion, without breaking the bank.
CUTTING-EDGE PLASMA ARC TECHNOLOGY. HERE'S HOW IT WORKS:
The basic principle used in a fibroblast skin tightening treatment also referred to as PLASMA, is the targeted delivery of plasma energy to the surface of the skin.
The plasma pen converts electrical energy into nitrogen gas and transmits that energized nitrogen gas, (the plasma arc) in a non-contact way to the skin's surface. A tiny plasma flash is created, instantly shrinking the targeted skin. 
This minute superficial trauma causes the skin in its vicinity to shrink, tighten and lift, giving surprising results that are noticeable immediately. This micro-trauma also stimulates new collagen growth and restructuring of elastin fibers over time. 
The elasticity of the skin and skin tightening will continue to improve as the skin heals and repairs and more collagen is produced.