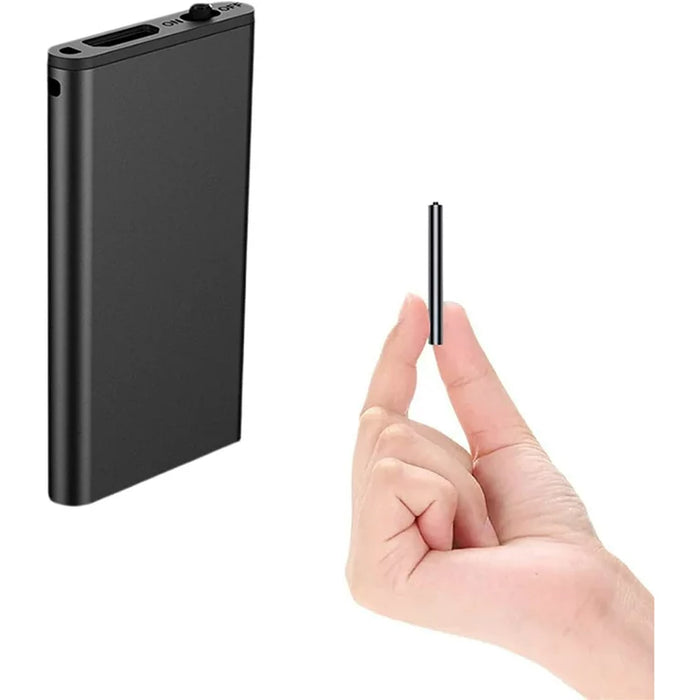 MINI VOICE ACTIVATED RECORDER
Save

40

%
Save

40

%
Original price
$79.90
-
Original price
$99.90
30 Day Money back guarantee
Introducing the Mini Voice Activated Recorder: Your Ultimate Tiny Hidden Recording Device

Discover the power of discreet audio capture with our state-of-the-art Mini Voice Activated Recorder. This compact yet powerful device is designed to provide you with seamless and secret recording capabilities, making it an ideal tool for various professional and personal applications. Whether you're a journalist, student, investigator, or simply looking to document important moments, our mini hidden voice recorder is your perfect companion.
Stores 376 Hours of Audio
Intelligent Noise Reduction & HD Stereo
records when it hears sound (Voice Activated Recording) up to 50 feet away
Features:
1. Compact Design: Our mini voice-activated recorder is ingeniously crafted to fit seamlessly into your daily routine. Its compact dimensions ensure that it remains discreet and easily concealed, allowing you to capture conversations, lectures, interviews, and more without drawing unwanted attention.
2. Voice Activation Technology: This cutting-edge recorder features advanced voice activation technology, ensuring that recording only begins when sound is detected, conserving both battery life and memory space. No need to sift through hours of irrelevant audio – you'll only capture what truly matters.
3. Crystal Clear Audio: Despite its size, the mini hidden voice recorder doesn't compromise audio quality. Equipped with high-quality microphones, it captures clear and crisp sound, preserving the authenticity of every recording.
4. 50 HOURS OF BATTERY TIME
The Mini voice recorder for meetings is equipped with a 32GB large capacity, which can store up to 376 Hours of recording files. It is built-in a high-quality 200mAh rechargeable battery. It can record continuously for 50 Hours and playback for 30 Hours—support recording while charging. The micro voice recorder is also an MP3 Player / USB-Memory-Stick. Why not make the Mini Voice Recorder your reliable daily partner?
5. ONE-KEY RECORDING & VOICE ACTIVATED RECORDER
One-Key can start or stop/ save the recording. There are no complicated steps, easy to use, and you can record important content naturally! In addition, our Mini recording device is equipped with a "Voice Activated Recording" feature that allows the mini-recording device to automatically start and stop recording based on the presence of audible sound around it. As well as OTG function: Using included Type-C/Micro-USB adapter, you can view/delete files directly on the phone, Mac, or PC.
Whether you're a professional aiming to gather crucial evidence or a student wanting to capture comprehensive lecture notes, our mini voice activated recorder has you covered. Its versatile applications span from personal memo recording to covert investigative tasks. Never miss a moment worth remembering.
Experience the convenience of a secret recording device that fits snugly in your pocket, ensuring you're always prepared to capture important audio whenever and wherever you need it. Elevate your recording capabilities with our Mini Voice Activated Recorder today.
In conclusion, our Mini Voice Activated Recorder presents a compact, high-performance solution for all your recording needs. With features like voice activation, superior audio quality, and a discreet design, this mini hidden voice recorder is an essential tool for professionals and individuals seeking a reliable and convenient recording device. Embrace the power of covert recording and bring efficiency to your endeavors with this exceptional mini voice recorder.
SHIPPING INFORMATION:
Your order will be packaged and shipped within 24 hours of ordering. Tracking info will be emailed to you once the order has been shipped. Shipping will take 4-7 days. 
OUR GUARANTEE:
We believe our products can help people's everyday lives, and we fully stand by our products. We offer a risk-free 30-day guarantee on all our products. If you don't have a great experience, we will ensure you are satisfied with your purchase. We also offer a 1-year free breakdown warranty on our products.