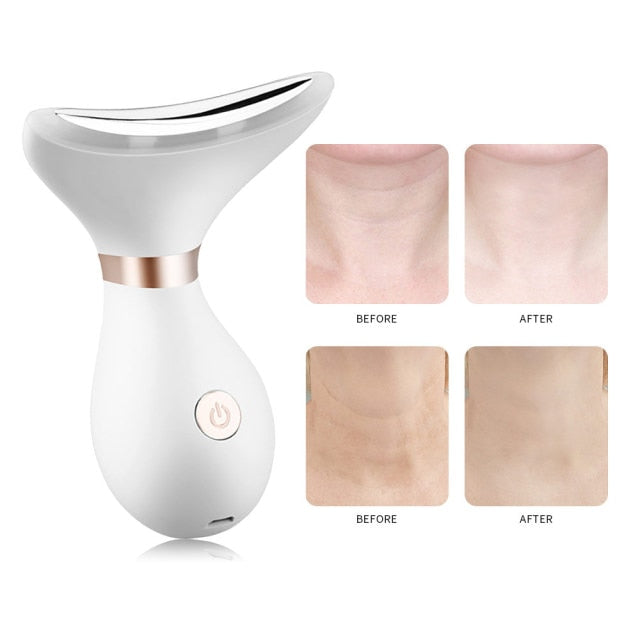 LED Face and Neck Anti Wrinkle Skin Tightening Device
Original price
$49.90
-
Original price
$49.90
30 Day Money back guarantee
Looking older than your actual age? Tired of covering fine lines and wrinkles with loads of cosmetic products!
Introducing you to a hand-held electric anti-aging skin lifting neck massager to restore skin elasticity, remove wrinkles, and keep your appearance youthful. It is the perfect solution for all your facelift needs and you can enjoy maximum efficiency in the comfort of your own home.
FEATURES:
Adjustable Sonic Vibration
Helps to activate blood circulation, promote metabolism and restore skin firmness through high-frequency vibration. This will then massage your skin to enhance skin absorption and elasticity, reducing fine lines and wrinkles.
3 Colour LED Light Mode
The LED photon therapy with different wavelengths activates deep-lying skin cells, production of collagen, and hydrolyzes the effect of diminishing fine lines. Three modes switch every 60 seconds with the intelligent sound reminder, balance the effects, and reduce inflammation to solve a variety of skin issues.
No dangerous heat or side effects will occur. Suitable for all skin types.
Soothing Sensation

The warming heat function delivers a 45
℃
±5
℃
soothing sensation to enhance skin tissue regeneration, open up the pores for better absorption of skincare products to leave your skin plump.
Rechargeable and Portable

Our device is rechargeable through a USB cord for convenient power on the go and for travel. The lightweight and portable body allow you to carry it anywhere and anytime for quick massage enjoyment.
HOW TO USE:
1. Apply some skincare products on the neck and face
2. Turn on the device and place it at the desired position
Neck: start from the bottom of the neck slowly move the massage head upwards towards the chin, and jawline
Chin and jowl area: start at the center and move the device outwards and upwards
Cheek: start at each side of the nose and move outwards and upwards
Forehead: start above the eyebrows and move upwards then outwards.
3. Apply gentle pressure while you are " lifting" the massager.
WARM TIPS:
1. You cannot use this product when charging.
2. You feel discomfort or appear abnormal skin during using process, please stop using immediately.
3. This product has no waterproof function.
4. You just need a clean cloth to wipe the product.
5. It flashes a red light when the low battery, flashes blue lights when charging, and long blue light when charging is finished.
6. It automatically close after 2 minutes if not used.
7. It is advised to use 5-10 minutes every time.
PACKAGE INCLUDES:
Neck beauty device*1
USB charging cable*1
User manual*1