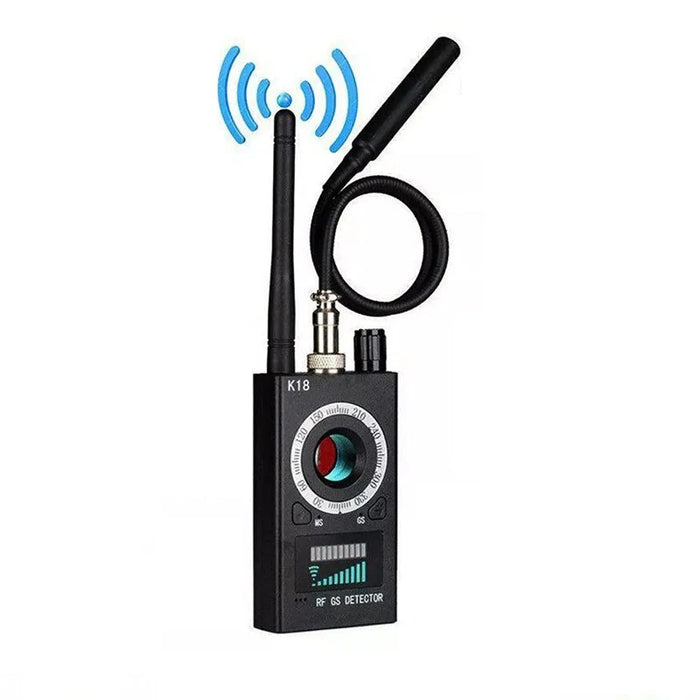 K18 - Hidden Camera Detector and Anti Spy Tracker
Original price
$74.90
-
Original price
$74.90
30 Day Money Back Guarantee
Cameras and eavesdropping devices can hide in plain sight. Without your knowledge, strangers can watch and track you. But with K18 Hidden Camera Detector & Anti-Spy Tracker you can rest easy knowing your privacy is protected.
The K18 will find GPS trackers, cell phone bugs, pinhole cameras, wireless taps, and more. With LED scanning and radio frequency detection, you can quickly and easily find devices no matter how well hidden. Simple to use, this compact detector is ultra-sensitive with a long range so it can thoroughly sweep in a room in minutes.
Features:
Comprehensive RF Detector - With a range from 1MHz to 8000MHz, our detector picks up all frequencies including GSM, WiFi, FM, VHF, and UHF. Easily locate 900/1200/2400 wireless audio and video signals. 
RED LED Scanner - With LED scanning, you can detect cameras hidden in everyday objects. The LED signal indicator shows four different signal levels so you can zero in on concealed cameras.
Clear Signal Indicators - With both a LED signal indicator and an RF signal indicator, you can see your signal strength at a glance. As the signal grows stronger, you know you're close to a hidden device. Plus, the detector can buzz when anything is detected.
Detects Even With Interference
Other anti-spy trackers and detectors don't function well around other electronics. But, our detector can detect hidden cameras and bugs even with nearby interference.
Adjustable Sensitivity
Use the adjustable sensitivity to scan a room with ease. Just dial the knob to increase or decrease the sensitivity level.
Extended Battery Life
With long battery life, you won't have to recharge often so your detector is ready whenever you need it. This rechargeable detector can operate up to 6 hours for LED scanning and up to 15 hours for RF detection. And, you can fully charge your detector in as little as 2.5 hours.
Specifications:
Frequency range: 1MHZ to 8000MHZ
Detection dynamic range:>73DB
Detection sensitivity: <0.03mv(the main band)
Detection range:
2.4G: 10 square meters(standard 10mv)
1.2G: 15 square meters(standard 10mv)
Mobile band 2G.3G.4G signal: 15 square meters
10 digital tube, buzzer, vibrator instructions
Power: built-in 3.7v 800ma polymer lithium battery, full charge time 2.5 hours
Weight: 150g
Delivery Time
Orders are typically delivered within 7-14 business days, depending on your location.
We offer Free Shipping to All Our Customers in the US.
Order Processing Time
We process orders from Monday to Friday. Orders are typically processed within one day after you place the order. Orders on weekends are processed on Monday.
Due to unprecedented volume increases and limited employee availability due to the impacts of COVID-19, it can take up to 14 days to process and ship your order.



90 DAYS MONEY-BACK GUARANTEE
We're proud to offer a risk-free 90 days money-back guarantee. Not happy? No problem! Just follow our money-back guarantee protocol to receive a full refund.
We Are Here To Help!
If you don't have a HAPPY shopping experience, contact us at
 warioxpro.ltd@gmail.com
and we will make it right for you so that you're
100% satisfied.
There's absolutely
ZERO RISK
buying from our official store - so send us an email if you need any assistance.