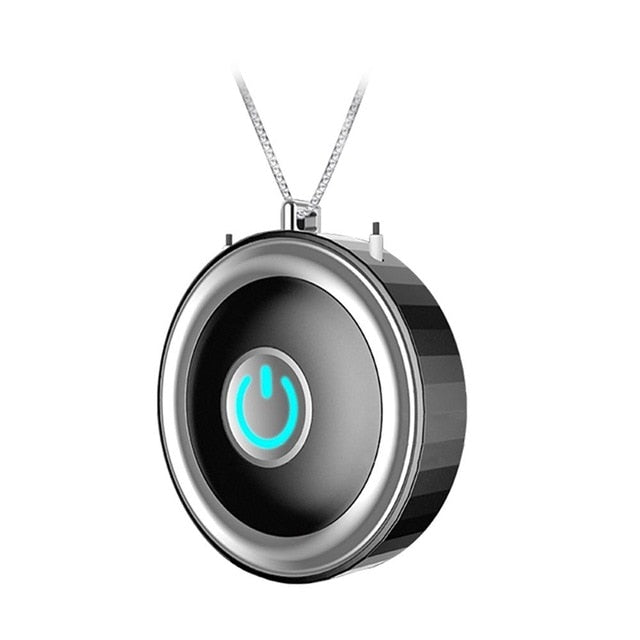 Ionic Air Purifier Necklace | Wearable Air Purifier
Original price
$0.00
-
Original price
$0.00
30 Day Money back guarantee
Wouldn't it be wonderful if we could all live the dream of breathing fresh air?
Escaping polluted air is one of the biggest concerns that we have today. If you find this appealing, then you should definitely consider investing in a Wearable Ionic Air Purifier Necklace.
It is created to remove contaminants like dust, smoke, allergens, and odors within your breathing space. Small and portable, you can use it to clean the ambient air around you in everyday life.
Today clean air is becoming more of a luxury than a bare necessity needed to survive. Pollution in large cities can take away 2-3 years of life expectancy.
We may inhale contaminated air on our way to work or while flying to our dream destination. Public transport exposes you to harmful airborne particles.
Short-term risks include chest pain, shortness of breath, and coughing. Long-term exposure can lead to respiratory and cardiovascular-related complications. You need to purify your breathing space today!
The primary goal of the Wearable Ionic Air Purifier Necklace is to make sure it cleans the air around you without restricting airflow. As well as ensuring the portability and physical comfort of its owner.
Equipped with negative ions that when released, eliminate contaminants and purify the air around you.
HOW DOES IT WORK?
The negative ions attract the particles that are floating in the air with a magnetic charge, binding them and making them heavy and drop to the ground.
Many studies have shown that negative ions generators such as Ionic Air Purifier have been proven effective at cleaning the air (Bacteria, Viruses & Dust) by 98%.
FEATURES:
Novelty pendant design makes this air purifier more chic and practical.
Small size and you can carry it everywhere you are going.
A good assistant to keep the air fresh.
100 % brand new and high quality
Made from high-quality material for durable and long-lasting use.
It also can be a pendant decoration for your car or bedroom.
HOW TO USE:
Press and hold the power button for 2 seconds, the power indicator will light blue, and the product will enter the working state.
Press and hold the power button for 2 seconds again, the power indicator will go out, and the product will enter the shutdown state.
When the product is charging, the power supply will flash red. When the product is fully charged, the power indicator will be steady red.
SPECIFICATIONS:
Air Volume:50m³/h
Type: Negative Ion
Certification: CB
Anion Density:>4000000pcs/m³
Power:<1W
Working Time:24H
Material: ABS
Power (W):5w
Voltage (V): DC5V
Function: Formaldehyde Removing
Installation: Portable
Size:5.5*1.6cm
PACKAGE INCLUDES:
1 x Air Purifier Necklace​
NOTES:
Colors may not reflect the actual color of the item due to different pixels on each monitor.