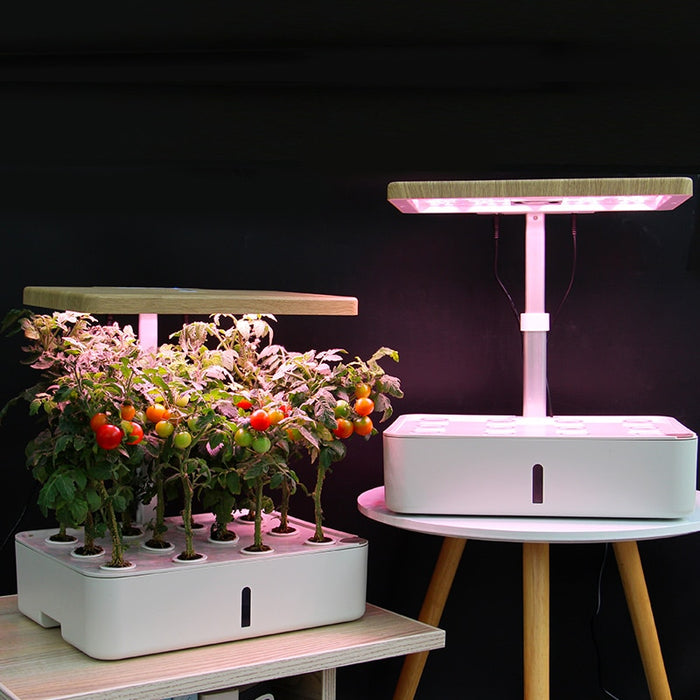 Hydroponics Growing System
Original price
$199.90
-
Original price
$199.90
30 Day Money back guarantee
You know the struggle of having to leave your warm home during the winter months to buy groceries to cook. These groceries may have pesticide residue and may not be as safe as we would like. It's also hard when traveling to know if your plants will survive while you're gone. Now, imagine growing fresh fruits, vegetables, and herbs inside the comfort of your home all year long. 
With this Hydroponics Indoor Gardening System, you can now easily grow anything you please with the promise of fresh goods always available within arms reach. Using LED light technology, you are guaranteed a 5x faster-growing process than average soil growth.
With water circulation irrigation, a self-sustaining system, and an adjustable lamp arm, you will have fresh fruits and veggies in no time. Built into the system are reminders to let you know when plant food or more water is needed so you don't have to worry. The LED lamp also automatically turns on and off You will have access to the fruits, herbs, and vegetables you need without the harmful GMOs or herbicides in no time.
Features:
Self Watering and Fertilizing: This system works by watering and delivering nutrients to your plants at increments of time without you supervising them. All you have to do is fill the tank weekly, and the garden will do all the work itself.
Easy-to-use Control Panel: Displays a timer to let you know when more water or plant food is needed in the system. There are multiple illuminated buttons to make the plant monitoring process easier.
2-in-1 Multipurpose System: Switch between growing Vegetables and Flowers/Fruits with the press of a button.
Professional Grow LED Lamp: This lamp allows for faster germination and plant growth. It gives off a natural light for just the right amount of time that your plant needs.
Sustainable Technology
There is no water wasted and a 90% more efficient use of the amount poured in with the help from the hydroponic system. 
Grows 5x faster than Soil
No need to get dirt everywhere! Just by using this system, you will use a lot less water and your plants will grow much faster.
Affordable
Save on electricity cost as our Hydroponics Growing System requires very little energy to power. To plant and grow a physical garden would require much more money, time.
Specifications:
Product Dimensions: 13.8" x 10.2" x 15.2"
Water Capacity: 4L