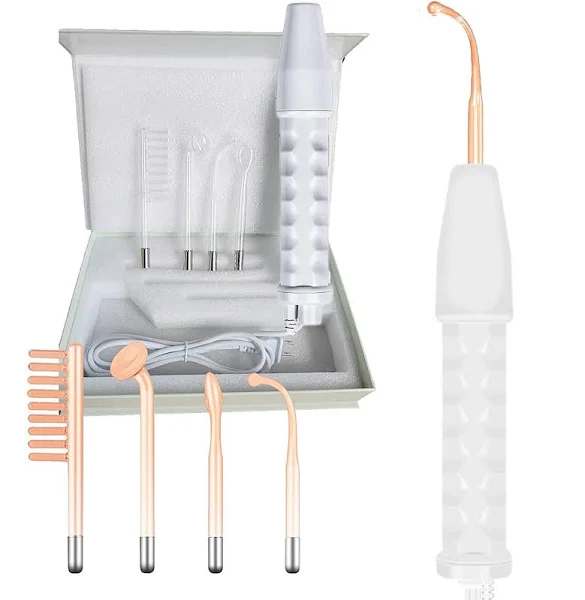 WandPro™ High Frequency Skin Therapy Set
Save

40

%
Save

40

%
Original price
$99.90
-
Original price
$99.90
30 Day Money back guarantee
The Most Effective Acne Treatment
From the comfort of your home. High-frequency therapy, widely considered to be one of the most effective acne and wrinkles treatments, is now available to you in the comfort of your home.
- Eliminates stubborn acne, blackheads, and zits 90% faster
- Increases Collagen and Elastin production to soften skin and reduce wrinkles
- Enriched oxygen molecules push away toxins in the blood vessels
- Accelerates healing of acne scars/blemishes
- Prevents breakouts before they start 
How Does High-Frequency Skin Treatment Work?
High-frequency treatment may include placing electrodes directly on the skin (direct high frequency) or leaving a gap between the electrodes and the skin (indirect high frequency).
Direct high frequency: help you treat oily skin. Suitable for oily skin.
Indirect high frequency: help you treat natural skin and aging skin. Suitable for dry skin and aging skin.
Note: Indirect high-frequency treatment is recommended.
Flash method: suitable for wounds, soreness, and inflammation.
Haircare method: suitable for irritating the skin surface and reducing folliculitis
Why The High-Frequency Skin Treatment
✔Functional and Effective -
It accelerates blood circulation, collagen, and cell production, making the skin younger and healthier.
If sparks occur when the tube touches the skin, this is normal. When in use, the tube will glow red.
Note: The effect of use varies with each person's skin structure.
✔Easy to Use in 3 Steps -
Insert the tube into the high-frequency machine.
Push the tube in and it will just snap into place.
Turn the high-frequency machine down to zero level and turn it on.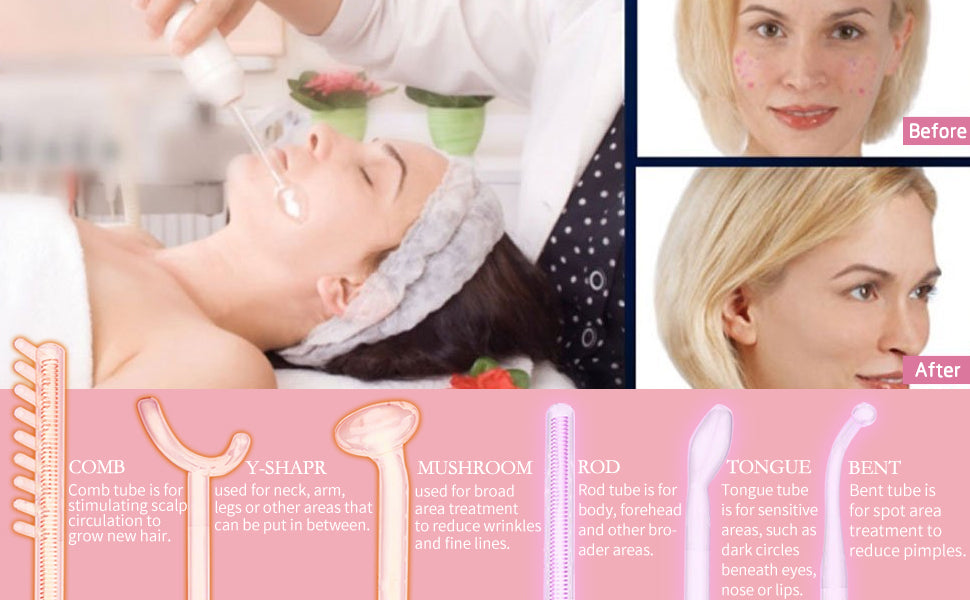 Safe and Natural for Improve Skin Profile:
With the natural healing power of argon and neon high-frequency therapy, this professional skin treatment wand can enhance cell metabolism, eliminate acne, reduce fine lines, soften wrinkles, and promote collagen production without the use of chemicals or drugs.
Multi-function Tubes
This professional skin treatment wand includes 3 argon-powered applicators to improve efficacy.
With cosmetic creams and serums, it can help improve their absorption in the skin.
Recycle neon lights and argon sprays to shorten the healing time of acne and make the skin younger.
Boost Your Face & Body Skin
Equipped with 6 different shapes of high-frequency electrodes for different areas of the face and body.
The mushroom tube is used for large-area treatment; the tongue tube is used for sensitive areas, such as dark circles under the eyes; the bent tube is used for spotted areas; the comb tube is used to stimulate scalp circulation; the argon-powered Y-tube is used to tighten the skin around arms and legs; Rod tube is used for the forehead and body, pressurized with tungsten.
Easy to Use
It is easy to carry and use. Continue to use it 2-3 times a week to allow your skin to be treated properly and benefit from high-frequency stimulation.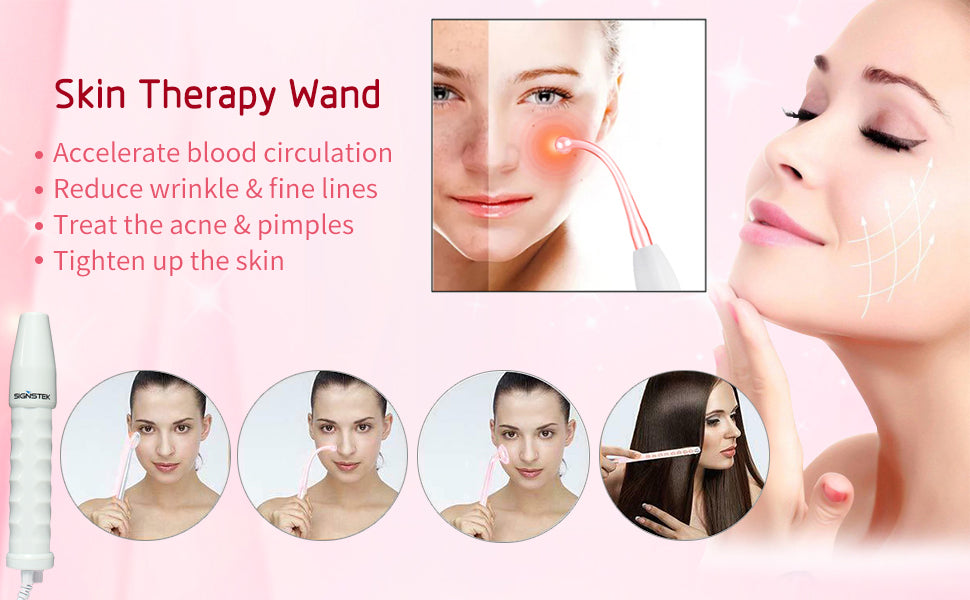 Specification:
Voltage: 110V, US Plug
Frequency: 50-60HZ
Power: 10W
Length: 210mm
Package weight: 238g
What you will get:
1 x Beauty Machine
1 x Mushroom Tube
1 x Y-Shape Tube
1 x Comb Tube
1 x Tongue Tube
1 x Bend Tube
1 x Rod Tube