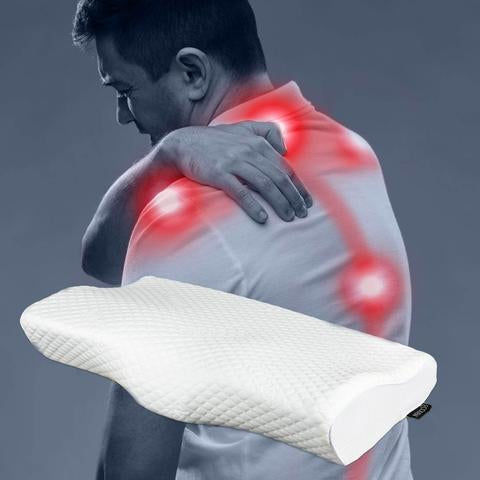 The Ergonomic Cervical Pillow For Neck Pain
Save

30

%
Save

29

%
Original price
$69.90
-
Original price
$99.90
30 Day Money Back Guarantee
Stop letting neck aches prevent you from living life to the fullest. The Cervical Pillow is guaranteed to eliminate neck & back pain and improve your quality of life within 30 days, or your money back. No questions asked! 
How you sleep is just as important as how long you sleep
Everyone knows that neck pains suck! If you're waking up with neck pain, chances are your pillow is not doing an adequate job in keeping your neck aligned during sleep, resulting in strain and tension. 
Neck pain can have a grave impact on your overall quality of life, ultimately affecting your daily happiness, productivity, and performance. Neck pain can be accompanied by headaches, back & shoulder aches, dizziness, nausea, poor posture, and more.
The science behind the Cervical Pillow
The Cervical Pillow is the latest pillow discovery in science. With the help of cutting-edge technology and sleep experts, we have finally developed a pillow that ensures perfect sleep posture in all sleeping positions. 
Every inch of the Cervical Pillow is precisely molded to maximize the benefits of each sleeping position, so you can finally get the most out of your slumber.
Scientifically developed to correctly maintain your neck in its naturally curved position throughout your slumber.
Eliminates Cervical Pain (back of neck):
  • Allows your neck to sleep perfectly in its natural curve, preventing unnatural spinal alignment which causes pain at the base of your neck.
Reduces Snoring & Sleep Apnea:
   • 70° wedge extension helps to widen airflow in your windpipes.
Our neck's natural curve is ruined daily by poor posture, both in the day and at night. Now, you can restore your neck's youth by simply sleeping in pure comfort. Zero effort! Cervical Pillow's 70° wedge extension will allow your neck and surrounding muscles to adjust back to perfect neck alignment for 8 hours every night. 
Permanently restore your neck's natural curve and claim its benefits:

 Improves Day-Time Posture:
• Losing your neck's curve is the cause of forwarding head posture and rounded shoulders.

•
 Posture tremendously impacts your daily mood and appearance. 
• Stand up to 2 inches taller, with more confidence.
Relieve Persistent Health Problems

:
• Losing your natural curve can result in frequent headaches, neck & back pain, reduced mobility, herniated discs, pinched nerves, arthritis, and more.

• Maintain and improve your health by restoring your neck's natural curve while you sleep.
Neck Contour (Back-Sleeping)
Eliminate Neck Pains (sides):
      • Prevents your neck from tilting sideways during back-sleeping, keeping your neck straight and aligned all night. 
    • Snuggles your neck perfectly to add an extra layer of coziness to your snooze.

61° Side Panels (Side-Sleeping)
We have derived Cervical Pillow's 61° Side Panels from the precise specifications of the human neck.

  Eliminate Neck Pains (sides):
       • 61° panels perfectly contours the sides of your neck, giving your spine no room for unalignment during side-sleeping.
    • 61° angle ideally snuggles your shoulders in, preventing shoulder pains.
Eliminate neck pain with ZERO effort

Trying to relieve neck pain is usually ineffective, and can often be a pain in the neck. Although 20% of people suffer from neck pain at any given time, many choose to live with it. People forget that the goal is to prevent neck pain, not cure it. 
Now eliminating neck pain is as easy as sleeping in pure comfort. 
You no longer have to toss and turn in bed to find the best, most comfortable sleep position. We have already developed the perfect sleep position for you with science! Together with Cervical Pillow's advanced memory foam formula, you can finally achieve the sleep of your dreams.
Standard: 12 x 20" (30 x 50cm)
Plus Sized: 14 x 24" (35 x 60cm)
Both sizes have the same loft at 4"