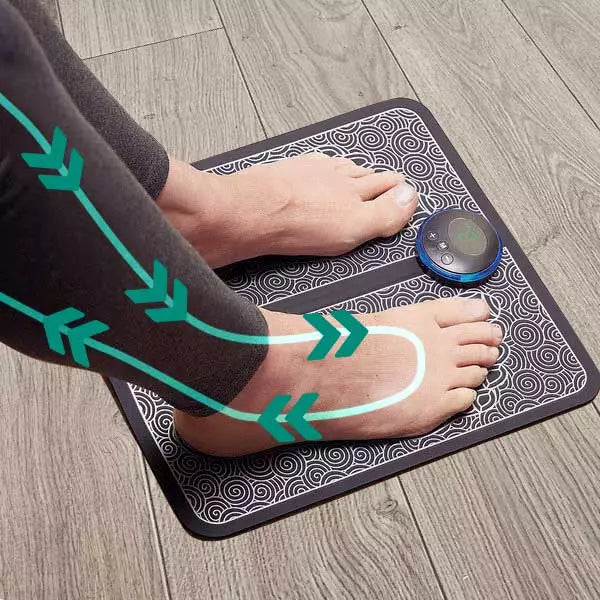 EMS Acupoints Foot Massager Mat
Save

50

%
Save

50

%
Original price
$59.90
-
Original price
$59.90
30 Day Money Back Guarantee
Revitalize Your Feet and Unwind with Our EMS Foot Massager Mat
Experience the ultimate relaxation for your tired and achy feet with our state-of-the-art EMS Foot Massager Mat. Designed to provide a soothing and invigorating massage experience, this innovative mat combines advanced technology with comfort, offering you a therapeutic escape in the comfort of your own home.
Key Features of Our EMS Foot Massager Mat:
Electrical Muscle Stimulation (EMS) Technology: Our foot massager mat incorporates EMS technology, which uses gentle electrical impulses to stimulate the muscles in your feet. This not only helps alleviate discomfort and tension but also promotes circulation, providing much-needed relief after a long day.

Multi-Mode Massage: Enjoy a customizable massage experience with multiple modes and intensity levels. Whether you're seeking a gentle massage to relax or a deeper kneading sensation to target specific areas, our EMS foot massager mat caters to your preferences.

Reflexology-Inspired Design: The mat's strategically placed nodes and stimulation points are inspired by reflexology, a traditional practice that believes various areas of the feet are connected to different parts of the body. This design aims to provide holistic relaxation and support overall well-being.

User-Friendly Operation: Our EMS foot massager mat is designed with user convenience in mind. It's easy to operate and comes with intuitive controls that allow you to adjust the massage settings according to your comfort level.

Portable and Space-Saving: Unlike bulky massage chairs, our foot massager mat is compact and portable, making it an ideal addition to any living space. Use it while watching TV, reading a book, or simply unwinding after a long day.

Promotes Relaxation: Regular use of our EMS foot massager mat not only relieves foot discomfort but also promotes relaxation and reduces stress. The soothing massage helps create a calming environment that benefits both your body and mind.
How to Use the EMS Foot Massager Mat:
Place the Mat: Find a comfortable and quiet space where you can lay down the EMS foot massager mat. Sit or lie down with your feet positioned over the stimulation points.

Select a Mode: Choose from the available massage modes and intensity levels based on your preference and needs.

Relax and Enjoy: Let the EMS foot massager mat work its magic as it delivers gentle electrical impulses and soothing vibrations to your feet. Close your eyes, take a deep breath, and let go of the day's stresses.

Regular Use: For the best results, incorporate the EMS foot massager mat into your regular self-care routine. Consistent use can contribute to improved foot comfort and overall well-being.
Indulge in Blissful Foot Relief Today!
Treat your feet to the relaxation they deserve with our EMS Foot Massager Mat. By combining cutting-edge EMS technology with reflexology-inspired design, we've created a haven of comfort and tranquility for you to enjoy at home. Bid farewell to foot discomfort and let the soothing massage melt away your stresses. Order now and experience the revitalizing benefits of our EMS foot massager mat firsthand.
SHIPPING INFORMATION:

Your EMS Foot Massager Mat will be packaged and shipped within 24 hours of ordering. Tracking info will be emailed to you once the order has been shipped. Shipping will take 3-7 days. 
OUR GUARANTEE:
At WarioxPro We believe our products can help people's everyday lives, and we fully stand by our products. We offer a risk-free 30-day guarantee on all our products. If you don't have a great experience, we will ensure you are satisfied with your purchase. We also offer a 1-year free breakdown warranty on our products.