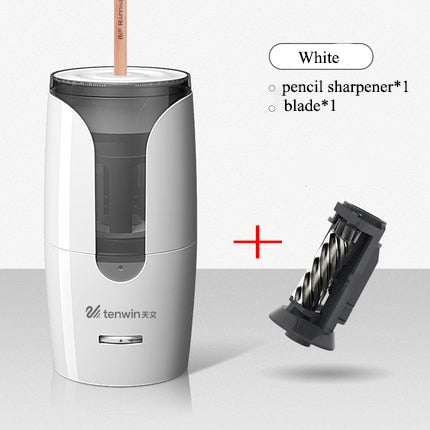 Electric Pencil Sharpener
Original price
$0.00
-
Original price
$0.00
30 Day Money back guarantee
The Pencil sharpener is perfect for school, office, kids, and artists!
Features you'll definitely love!
1. Adjustable pen tip. You can now choose the option to adjust the thickness of the pen tip. May it be a thick or thin pen tip.
2. It will automatically sharpen it for you, once you put the pencil in. It will also automatically stop once finished. No need to do anything!
3. Uses a titanium blade! This means that it can extend the life of the sharpener because of its durability and can be easily cleaned.
4. Pencils will not be wasted. You can sharpen even small pencils.
5. Sharpener automatically detects broken pencil lead. 
6. Can be easily opened and disposed of the pencil shavings. 
7. Large battery capacity. Charge it for 2 hours and use it 300+ times!
8. Replaceable Blades. An extra blade will be included in the package for long-lasting use.
9. You can use any type of pencil!