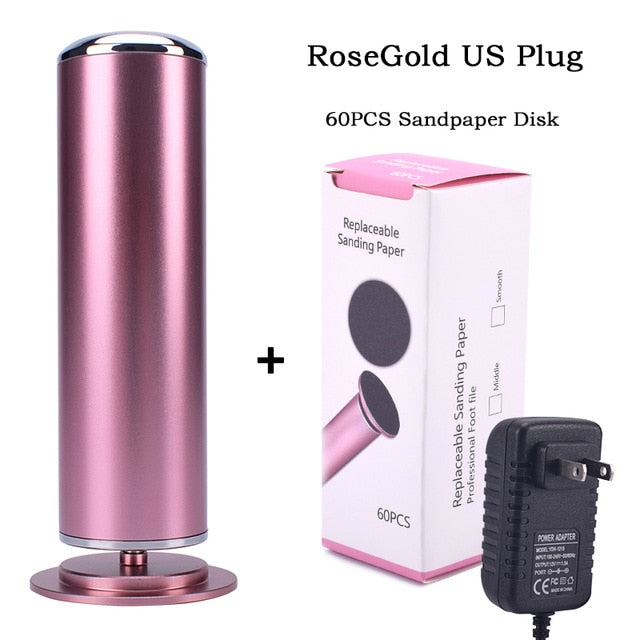 Electric Foot Callus Remover
Original price
$69.90
-
Original price
$69.90
30 Day Money back guarantee
Keep your feet soft and beautiful with our best Electric Foot Callus Remover!
Calluses are hard, painful areas of skin that often develop on the feet in response to pressure or friction. They happen when the skin tries to protect an underlying area from injury, pressure or rubbing. Neither is dangerous, but they can cause irritation. This is why the foot file plays a big role in the pedicure.

With this Electric Foot Callus Remover, you'll no longer have to suffer dry, cracked heels in-between visits. Now you can have pedicure-worthy feet whenever you want. Instantly removes dry, dead skin and uncomfortable calluses from heels, soles, toes, and hands. Perfect for getting soft, sexy feet at home, at the office, in the car, or anywhere else you go.

A regular foot file grates and damages skin, causing pain and discomfort. This Electric Foot Callus Remover removes uncomfortable calluses and smooths cracked heels without damaging your feet. Callus eliminator micro-abrasion head rotates at 2000 rpm for high power and maximum comfort.
Features:
- 360 degree rotating to remove foot heel dry, dead skin, calluses.
- Easily to control its speed as your request, fast or slow, more convenient.
- Small size, easy to carry when you are in travel or vacation.
- Safe and fast removal, perfect for nail salon family use.
How to use:

1. Soak your feet in the warm water for a while to soften skin and then wipe it dry.
2. Take out one sandpaper disk, tear off the protective film and then paste in the foot polisher.
3. Connect the foot polisher and adaptor, plug into the socket, and then turn on switch.
4. Adjust the speed that you need.
5. Use the foot file, slide over your feet where is filled with dead, calluses, dry, thick, cracked skin gently.
6. Remove the sandpaper disk, clean machine with dry cloth, and clean tyour feet and apply some cream to moisturise.
Specifications:
Power: 18W
Power Type: AC power
Size: 23.2 * 13.1 * 5.7cm
Material: Aluminum Alloy
Type: Electric Foot Care Tool
Package Includes:
1 * Electronic Callus Remover
1 * AC Adapter
1 * User Manual
60 * Replacement Sandpaper Discs