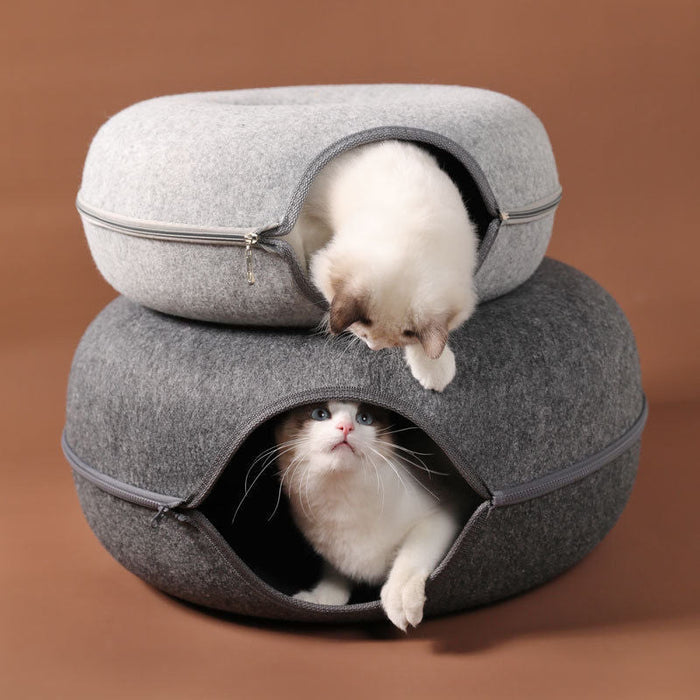 Donut Peekaboo Cat Cave Tunnel Bed
Save

44

%
Save

43

%
Original price
$69.90
-
Original price
$89.90
30 Day Money Back Guarantee
Introducing the Peekaboo Cat Cave - the ultimate haven for your furry companion, combining comfort, security, and playful charm in one delightful package. Crafted with love and care, this innovative cat bed takes the concept of a traditional donut cat bed to a whole new level, offering a cozy retreat and an interactive tunnel all in one. Let's delve into the enchanting world of the Peekaboo Cat Cave and see why it's a must-have for every cat owner.

Unveiling the Peekaboo Cat Cave:
Innovative Design: Unlike ordinary cat beds, the Peekaboo Cat Cave boasts an ingenious design that features a donut-shaped bed connected to an intriguing tunnel. This design encourages your feline friend to explore, play, and rest in a unique and captivating way.

Cozy Comfort: Your cat's comfort is our priority. The plush donut bed provides a luxurious and cushioned space for your pet to curl up and relax. The soft and cozy interior material ensures warmth and snugness, satisfying your cat's natural instinct for a comfortable resting spot.

Interactive Fun: Cats are curious creatures, and the tunnel element of the Peekaboo Cat Cave taps into their playful nature. The tunnel provides a secret passage for your cat to sneak through, pounce, and play hide-and-seek. It's a fantastic way to keep your pet engaged and mentally stimulated.

Secure Sanctuary: Cats often seek out enclosed spaces to feel safe and secure. The Peekaboo Cat Cave's tunnel design mimics the coziness of a den, offering a secure sanctuary where your cat can retreat whenever they need a moment of solitude or relaxation.

Stylish Addition: Aesthetics matter, even for pet products. The Peekaboo Cat Cave boasts an elegant and modern design that complements your home decor. It's a charming addition to any room, serving as both a functional pet accessory and a tasteful accent piece.
How to Introduce Your Cat to the Peekaboo Cat Cave:
Place the Cave in a Familiar Area: Choose a quiet and comfortable area where your cat usually likes to spend time. Position the Peekaboo Cat Cave in this space to make it familiar and inviting.

Add Familiar Scents: Encourage your cat to explore the cat cave by placing some of their favorite toys or a soft blanket with their scent inside. This will make the cave more appealing and reassuring to your cat.

Positive Reinforcement: Gently introduce your cat to the tunnel, allowing them to explore at their own pace. Use treats and praise to reward their curiosity and encourage positive associations with the cat cave.

Playtime Fun: Initiate play sessions near the Peekaboo Cat Cave to spark your cat's interest. Use toys to lure them in and out of the tunnel, making it a part of their interactive playtime routine.
Elevate Your Cat's Comfort and Playtime Today!
The Peekaboo Cat Cave is more than just a donut cat bed – it's a versatile haven that combines comfort, playfulness, and security to create the ultimate feline retreat. Whether your cat is curling up for a cozy nap, engaging in adventurous tunnel exploration, or seeking a private sanctuary, this innovative cat bed has it all. Treat your beloved feline to a world of comfort and play by bringing the Peekaboo Cat Cave into your home. Order now and watch your cat's joy and contentment soar to new heights!