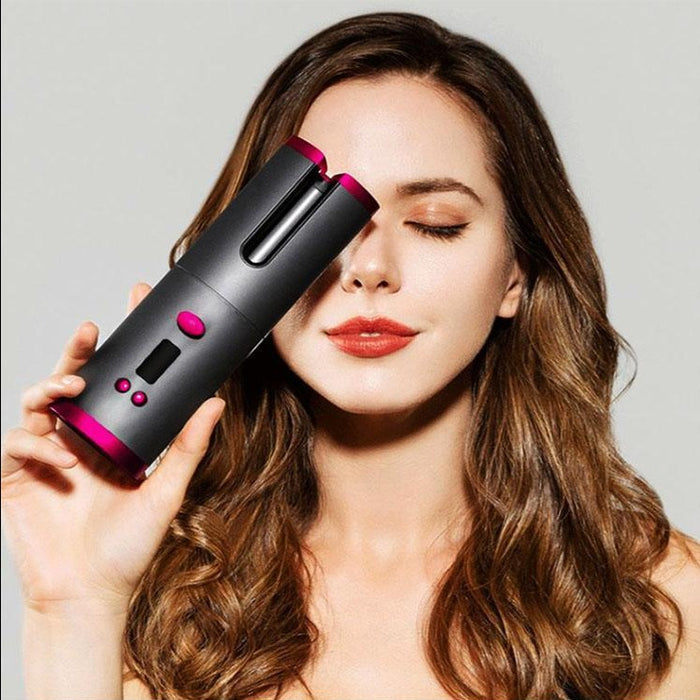 UPCURL AUTOMATIC HAIR CURLER
Save

17

%
Save

17

%
Original price
$59.90
-
Original price
$59.90
30 Day Money Back Guarantee
Oomph up your curl game!

Are you one of those people who never seem to get their curls right?? Do you spend hours curling your hair without success and always wonder how to get the perfect curls?
The Upcurl Automatic Hair curler is an automatic curling iron that gives you a hassle-free and safe solution to achieve those perfect curls!
It is a cordless hair curler, with a plant protein ceramic coating that works seamlessly without damaging your hair. With several temperature and timer settings, it is suitable for all kinds of hair and can curl your hair in a range of styles from beach waves to tight sleek curls. It also has automatic safety settings to prevent your hair from getting tangled in it.
 
No need to worry about getting your hands burnt or your hair damaged! To get the most amazing, smooth, and exuberant curls with Upcurl Automatic Hair Curler
Get yours by Clicking Add to Cart Above!
Smart Auto rotation: Your dream curls are just one touch away! Press the rotation button and release it when you hear the beep! See the magic happen with the one push smart auto-rotation feature of the Upcurl Automatic Hair Curler! It gives you the most amazing curls in seconds without worrying about burning your hands or face!
State of the Art Ceramic Coating: The State of the art ceramic coating, of the cordless hair curler responsibly secured inside a double insulated heat chamber, gives you stellar curls leaving your hair feeling smoother and more gorgeous! The Nanosilver and tourmaline to coating along with ceramic minimizes the damage to your hair due to high temperatures.  
A wide range of curling styles to choose from: The Upcurl Automatic Curler has a wide number of temperature and time settings to cater to all kinds of hair textures and curl styles. From messy beach waves to bouncy tight curls, you can go for all those curly looks you have always dreamt of!
Safe and easy to use: To maximize ease of use and get you those mind-blowing curly locks with professional feels, the cordless hair curler has intelligent settings for both the left and right sides. The built-in induction motor stops when the hair is not inserted correctly to avoid getting it stuck in the automatic curling iron.
HOW TO USE
Completely charge the cordless hair curler for 3 to 4 hours before turning it on for the first time.
 Adjust the temperature, time, and direction according to your requirements. A beep will indicate that the cordless hair curler is now ready to be used.
 Insert a ½ inch section of your hair into the curling chamber and press the rotation button until you hear a beep. The auto-rotating chamber will curl your hair according to the temperature settings.
Release the rotation button and the automatic curling iron will release your hair presenting you with a professionally curled look.
 FEATURES
Auto-rotating with built-in settings for various types of curls suited for all hair types
Cordless and battery operated (5000mAh)
Rechargeable via a USB port
Auto shut off settings
Portable and sleek
Ceramic coating with Nanosilver and tourmaline to prevent hair damage
A battery time of 60 minutes
Separate directions of rotation for left and right curls
Automatic de-tangling mechanism
Double insulated hollow design to prevent burning your face or hands
Secured Shipping & Money Back Guarantee
 We believe our products are some of the best in the world. To back this up, we provide all customers with a 30-day RISK-FREE warranty.