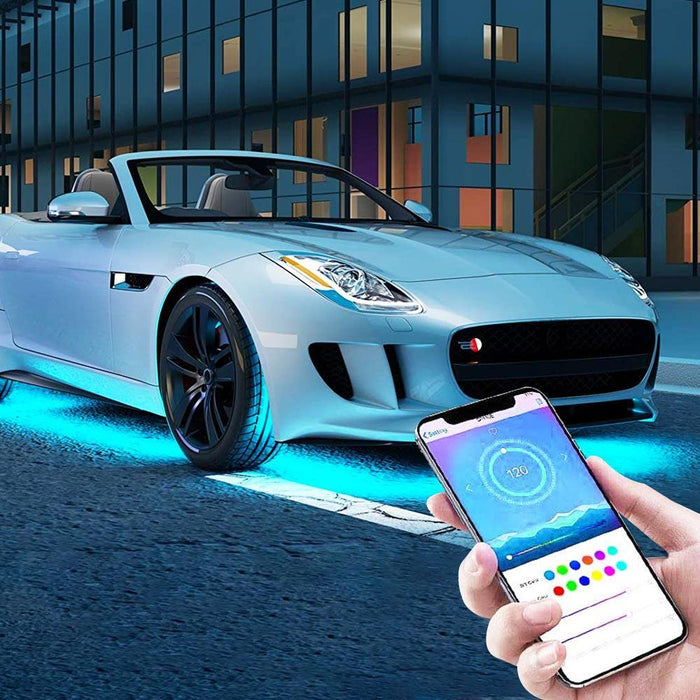 CAR UNDERGLOW KIT
Original price
$69.90
-
Original price
$69.90
30 Day Money Back Guarantee
ULTIMATE CAR LED UNDERGLOW NEON LIGHTS SET
Customize your ride with an underglow and illuminate the streets while you drive through the night. Our underglow light was designed to add a cool vibe to your car through its colorful lights.
With its versatile design, the under car light can produce different colored lights, giving you the option to choose the perfect color for you. Not only that, but the car underglow enables you to quickly switch between colors with a single press of a button.
Equipped with remote control, the car neon lights can also be controlled to dance with the music that you play. It also has a multi-color function that shows off all the colors of the rainbow in a continuous flow if needed.
Even better, the car-led lights can also be app-controlled to avoid connection problems when turning the lights on and off. Drive with style and confidence while illuminating your car's underbody with our premium led underglow!
FEATURES

WATERPROOF - Our car underglow light was designed to function through any type of weather. Its waterproof outer layer prevents the truck underlight from breaking down even when water splashes on it.
WIDE APPLICATION - With its versatile design, the underglow can be installed onto any type of vehicle. Whether you own a car, truck, or boat, the underglow light will provide bright and colorful lighting at all times.
EASY INSTALLATION - Equipped with four LED bars, the under car light covers all four sides of your car's underbody to keep it fully illuminated. All that you have to do to install the car underglow is to wipe down your car's underbody, stick the LED lights in a dry place, and connect all the cables together.

SPECIFICATIONS
Material: Silicone, LED
Size: 23.6 x 35.4 in
Power: 20W
Remote Control Distance: 32.8 ft

PACKAGE CONTENT

1x Car Neon Lights