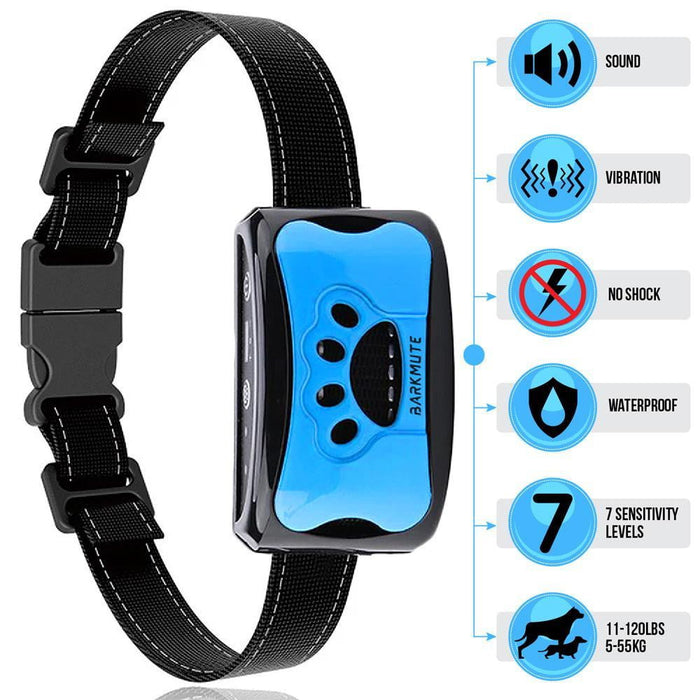 BarkingMute™
Original price
$49.99
-
Original price
$49.99
30 Day Money Back Guarantee
30-Day Money-Back Guarantee
DESCRIPTION:

Imagine a collar that stops your dog from barking aggressively and uncontrollably, a long term behavior solution, not just a quick fix and without any shock or harmful techniques. 
Effective and Humane
BARKINGMUTE™ really reduces barking, without causing your dog to feel painful or distressful. Combining the beep sound and vibration in one unit makes it possible to correct the barking habit effectively, and there is no harm to your beloved dogs.
Progressive Behaviour Correction
Starting with a warning noise, the collar increases the duration of its vibration until your dog stops barking for thirty seconds. This increasing deterrent is the most effective method of electronic bark correction for small and medium dog breeds.
Rechargeable and Waterproof
Forget about changing batteries. BARKING MUTE™ is USB rechargeable and it's waterproof too, so you'll have no problems using it outdoors
Adjustable & Comfortable
BARKING MUTE™ Collar is suitable for dogs between 11 to 120 LBS (5-55 KG) with a neck size from 9' to 22' (23 to 56 CM)
BARKING MUTE™ Includes
BARKING MUTE™ Collar
USB Cable
Manual
Bark Training E-book 
The proper fit of the collar is important. The strap should be adjusted so that one finger can fit comfortably between it and your dog's neck. Check the fit of the collar to prevent excessive pressure.
If you know you will not be using the device for a long period of time, we recommend powering off the collar.
The two vibration probes are hypoallergenic to accommodate both long- and short-haired dogs. We take care only to use materials that are safe for your dog.
Check the sensitivity level, reduce it if the collar responds to the third-party noises or increase it if it does not detect your dog's barks.
If the collar does not work properly please try recharging it for 2 hours, perhaps the charge is not enough and the collar does not sound properly or make constant noise instead of corrective sounds and vibrations. If it beeps but not vibrates, recharge it.
Do not forget that after collar reacts 7th times it will initiate a one-minute hibernation mode which is accompanied by a constant red LED-indicator.
Barking Mute is suitable for dogs weighing 11 to 110 lb (5kg to 50kg) with a neck size from 9 to 22 inches (23 to 56 cm). If the dog's hair is too long around the neck, it is recommended to cut it short to avoid affecting the silicone vibrators.
Delivery Inside The UK:
Secure Fast Delivery – Shipments usually take around 2-5 business days depending on your location. 
OUR GUARANTEE
We know every dog is different. That's why Barking Mute is backed by our 30-day money-back guarantee. If for some reason BarkingMute isn't for you, contact us and send it back for a full stress-free.