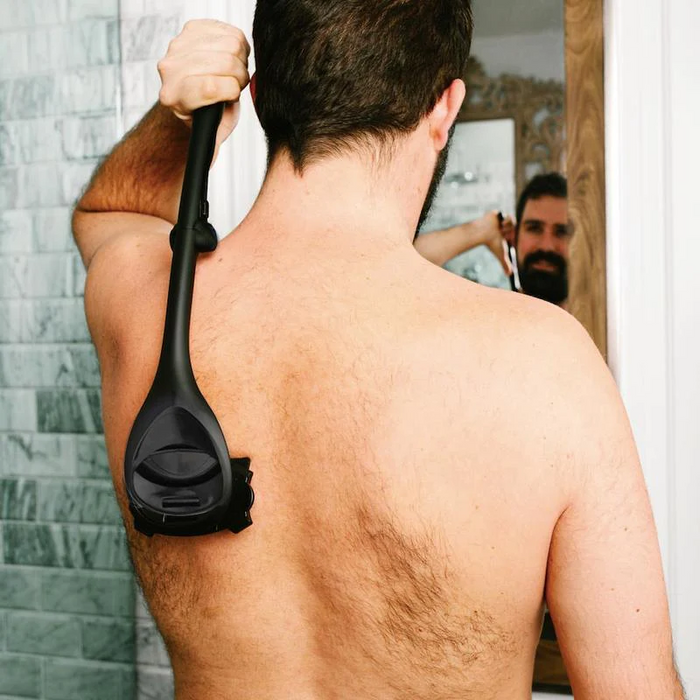 ShaverPro™ Back Hair Shaver
Save

46

%
Save

46

%
Original price
$69.90
-
Original price
$69.90
30 Day Money Back Guarantee
Are you tired of dealing with unruly and embarrassing back hair?
Do you avoid situations that require you to go shirtless due to self-consciousness? It's time to regain your confidence and take control of your grooming routine with our advanced Men's Back Hair Shaver. Designed specifically to cater to the needs of modern men, this cutting-edge device will revolutionize the way you manage and maintain your back hair.
Why Choose Our Back Hair Shaver?
Efficient and Precise Grooming: Our back hair shaver is engineered to provide efficient and precise grooming results. The ergonomic design ensures easy handling and maneuverability, allowing you to reach even the most challenging areas of your back effortlessly.

Sleek and Modern Design: We understand the importance of aesthetics, and that's why our men's back hair shaver features a sleek and modern design. It's a tool you can proudly display in your grooming kit.

Gentle on Skin: The device is equipped with advanced shaving technology that ensures a smooth and irritation-free experience. The hypoallergenic blades are designed to glide smoothly over your skin, minimizing the risk of nicks and cuts.

Versatile Usage: This isn't just a back hair shaver; it's a versatile grooming tool. Its extendable handle allows you to effortlessly groom other hard-to-reach areas, such as your shoulders and neck, without any assistance.

Cordless Convenience: Our back hair shaver operates cordlessly, offering you the convenience of grooming anywhere, anytime. The rechargeable battery ensures long-lasting performance, making it the perfect travel companion.

Easy Maintenance: Cleaning and maintaining our men's back hair shaver is a breeze. The detachable blade cartridge can be easily removed for cleaning, ensuring the longevity of the device.

Boosted Confidence: Imagine the confidence boost you'll experience after achieving a well-groomed, hair-free back. With our back hair shaver, you can confidently rock any outfit and confidently partake in activities that showcase your back.
How to Use:
Using our men's back hair shaver is a straightforward process:
Ensure your back is clean and dry before beginning.

Extend the handle to reach the desired areas easily.

Turn on the shaver and gently glide it over your back in the direction of hair growth.

For best results, take your time and use light, even strokes.

Once you're done, clean the blade cartridge, and you're all set!
Invest in Your Grooming Routine Today!
Don't let unsightly back hair hold you back any longer. Embrace the confidence that comes with a well-groomed appearance by incorporating our Men's Back Hair Shaver into your grooming routine. Whether it's for a special occasion or your everyday look, this device will help you achieve a sleek and hair-free back effortlessly. Say goodbye to self-consciousness and hello to a new level of confidence with our revolutionary back hair shaver for men. Order yours today and experience the transformation for yourself!
SHIPPING INFORMATION:

Your ShaverPro™ will be packaged and shipped within 24 hours of ordering. Tracking info will be emailed to you once the order has been shipped. Shipping will take 3-7 days. 
OUR GUARANTEE:
At WarioxPro We believe our products can help people's everyday lives, and we fully stand by our products. We offer a risk-free 30-day guarantee on all our products. If you don't have a great experience, we will ensure you are satisfied with your purchase. We also offer a 1-year free breakdown warranty on our products.