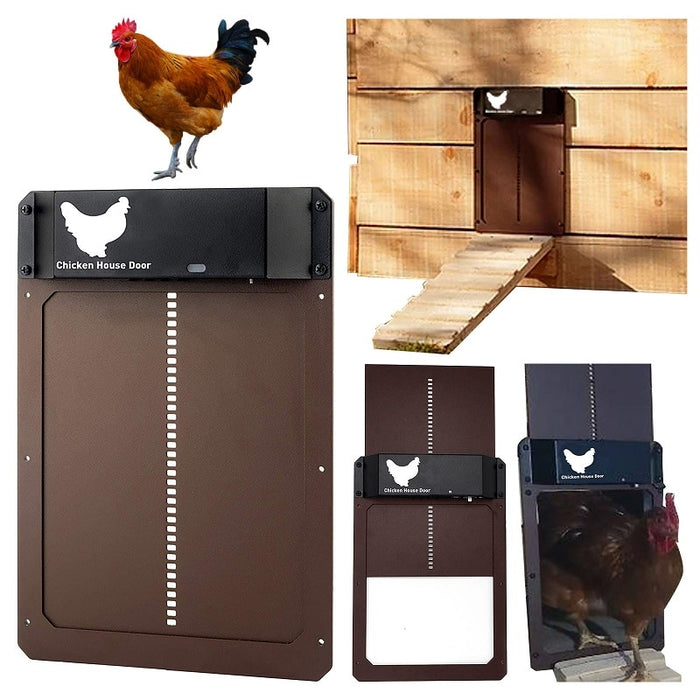 Automatic Chicken Coop Door
Original price
$39.90
-
Original price
$39.90
30 Day Money Back Guarantee
The ultimate automatic door for every chicken keeper! This AUTOMATED chicken coop door opener will surprise you with its WATERPROOF feature, STURDY design, Light SENSOR, 3 YEAR battery life that works in all conditions, EASY user interface, and most importantly, a LIGHT SENSOR that takes care of your chickens being safe at night and being free-range by day. 
Features:
PLUG AND PLAY TECHNOLOGY - It takes no more than 10 minutes to install the door (no complicated wiring or cabling).
EASY TO USE - Easily programmable push button. It automatically opens in the morning & closes in the evening. You can set the timer or use the integrated (LUX) Light Sensor.
WORKS IN EXTREME WEATHER - Waterproof; will work in snow, rain, and dust.
Easy to install chicken coop door -This chicken coop opener is packaged safely and comes with 6 screws, 2 x AA batteries, and an instruction manual.
No need for exhausting assembly.
Withstands high and low temperatures -The automatic chicken coop door endures high and low temperatures, and so does the battery. Because the battery is in a waterproof casing, it can be outside in cold or warm weather, and it will run for a year.
Timer setting -means that your door will work by itself when the sun is up and will go down when the sun goes down. If needed, you can set the timer for opening with the test button.
Products include: