Anti Snoring Bruxism Mouth Guard
Save

29

%
Save

29

%
Original price
$41.90
-
Original price
$41.90
30 Day Money back guarantee
Your ticket to a snore-free slumber awaits! Choose our Anti Snoring Bruxism Mouth Guard and wake up refreshed.
Do you find yourself constantly waking up to the sound of your own snoring? Does teeth grinding (bruxism) keep you and your partner up at night? If so, you're not alone. Millions of people around the world struggle with snoring and teeth grinding issues that can disrupt their sleep and overall quality of life. That's where our
Anti-Snoring Mouth Guard
comes in to save the day (and night)!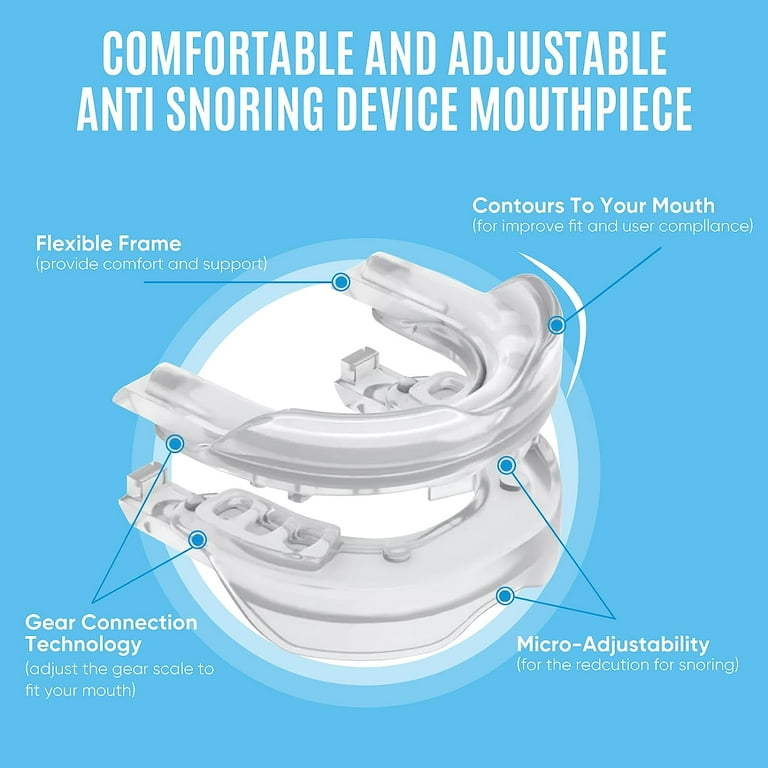 Features:

Enhanced Health: You'll experience improved focus, concentration, and overall cognitive function during the day.
Increased Energy Levels: With better sleep quality, you'll be ready to tackle each day with enthusiasm.
Improved Relationships: Our mouthpiece promotes peaceful sleep, reducing the strain on your relationships. 
Why Choose Our Anti Snoring Bruxism Mouth Guard?
Customized Comfort: Our mouthpiece is moldable, allowing you to create a personalized fit for your mouth, ensuring maximum comfort throughout the night.
Effective Snoring Reduction: This mouthpiece effectively reduces and, in many cases, eliminates snoring, ensuring you and your loved ones enjoy uninterrupted sleep.
Sleep Apnea Relief: This guard helps keep your airway open, reducing risk of breathing interruptions and promoting better sleep, especially for those with sleep apnea.
Bruxism Protection: Protect your teeth from the damaging effects of teeth grinding. By preventing wear and tear on your teeth, our mouthpiece acts as a barrier.
Quality Materials: Crafted from premium, medical-grade silicone, our mouthpiece is free from harmful chemicals and allergens, ensuring your safety and peace of mind.
In conclusion, if you're tired of snoring, bruxism, or sleep apnea disrupting your sleep and overall quality of life, our Silicone Snoring Mouth Guard is the answer you've been searching for. Say goodbye to snoring and hello to sweet dreams!

Specifications:

Color: Clear
Material: Silicone
Suitable For: Anti Apnea, Anti Snoring, Anti Teeth Grinding
Package Included:

1 * Anti Snore Mouthpiece
Shipping Information:
Your Anti Snoring Bruxism Mouth Guard will be packaged and shipped within 24 hours of ordering. Tracking info will be emailed to you once the order has been shipped with a tracking link. Delivery will take 2–4 days

WarioxPro Guarantee:
At warioxpro we take pride in providing high-quality products that meet your needs and exceed your expectations. We want you to feel confident in your purchase decision, which is why we offer a 30-day Satisfaction Guarantee on all our products. If you have any questions or concerns, please don't hesitate to contact our friendly customer support team. Your happiness is our priority.