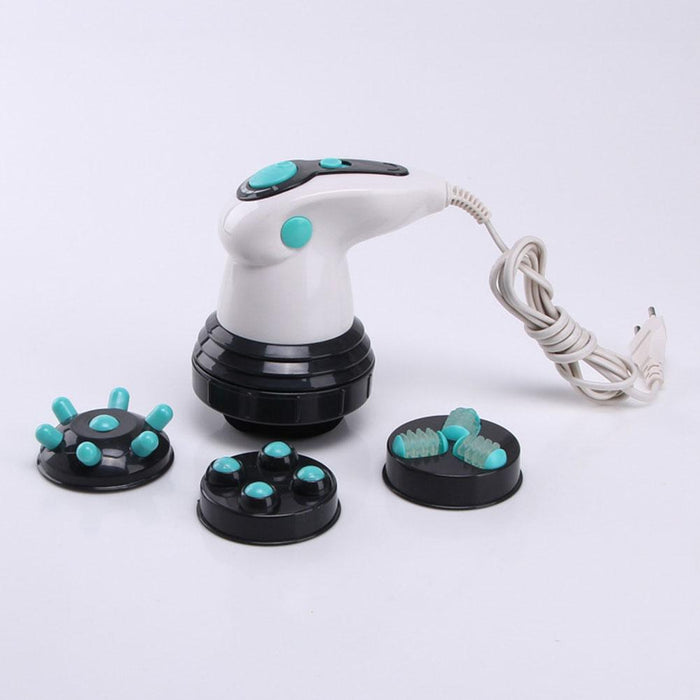 Anti Cellulite Electric Massager roller
Original price
$59.90
-
Original price
$59.90
30 Day Money back guarantee
Getting in shape is tough, and it can be even tougher because gyms are prohibitively expensive, out of the way, and potentially dangerous in the age of the pandemic.
If you want to get in shape but don't have the energy or money to go to a gym, there's a way to enhance the home exercises that will leave you feeling younger, healthier, and more toned overall. The S-Curve shiatsu full-body massager can help you burn fat from all areas of your body. The massager comes with six unique massage heads to massage every body part in different and unique ways, as well as eight different functions.
If you want a lighter, more relaxing massage or a full-body fat-burning experience, use the massager and see the results in only a few weeks' time. This massager uses heat to help burn cellulite and keep your body slimmed and toned. It's also fully electric and rechargeable, so you never have to worry about replacing batteries. In addition, it's ultralight and portable, so you can take it anywhere you want.
Features:
Six Massage Heads: This massager comes with six distinct massage heads to help you experience the massage you want without hassle. Every head feels different and will offer you a unique and great experience for your aching body. Use them all during the week for the full range of sensation.
Six Different Functions: The massager comes with six main functions, including body slimming, light massage, LED light therapy, and gym simulation. You can burn fat with the full-body experience as you switch between the different functions and watch the pounds gradually lessen.
Rechargeable And Portable: This little massager is extremely convenient and simple to use. You can take it anywhere in the world with you because of its light and small stature, and you'll never have to worry about the batteries running out because it's easy to recharge.
Benefits:
Stay Healthy And Happy: With the six-in-one massager, you can burn fat and stay healthier while you destroy cellulite and help your body stay active and heal faster than ever. You'll feel younger and have more energy than you ever thought possible with daily massages.
Save Time And Money: Gyms are expensive and out of the way, but you can have the benefits of a workout at your house with this full-body massager. Perform regular exercise and top off your routine with this convenient and effective massager.
Stay Relaxed: On top of burning fat, this massager offers great and relaxing massages too! Give yourself a great, relaxing session and keep your body loose and soft throughout the day. Give yourself the benefits of a spa and a gym with this full-body massager.
Specifications:
Product Name: Anti-Cellulite Massager
Parameter: 110-240V/25W
Model: YC-211
Function: Slimming/Lose Weight
Massage Time: 15min
Package: Product + 6 Massage Heads + Manual + Color Box