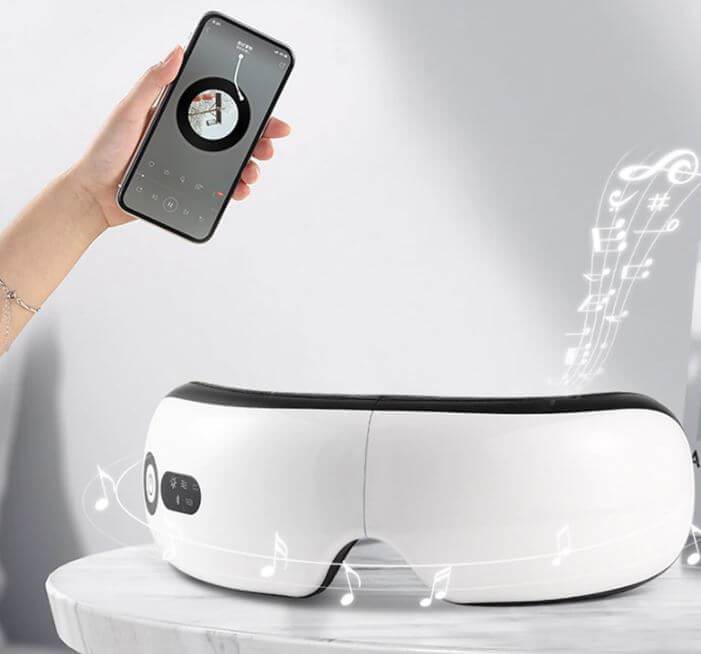 4D AIRBAG VIBRATION EYE MASSAGER
Original price
$89.90
-
Original price
$89.90
30 Day Money back guarantee
BEEN SUFFERING FROM THIS?
SIT BACK! CALM YOUR MIND. REST YOUR EYES. EASE YOUR HEADACHES.
Providing the optimal solution for your eyes' tender care, love, and well-being is vital. Domitian Care 4D Airbag Vibration Eye Massager is a newly arisen eye care technology that is proven to provide warmth, acupoint, and vibration massage under relaxing music and natural sounds. Many have stated that this is an instant cure for their eye-related problems.  
YOUR LOVELY EYES DESERVE NOTHING BUT THE BEST!
Our 4D Airbag Vibration Eye Massager is therapeutically effective for the following conditions;
✔ Migraines, Sinus Pressure & Headaches
✔ Dry and Tired Eyes
✔ Sleeping Problems
✔ Stress & Anxiety
✔ Eye Bags & Dark Under Eyes Circles
Experience instant and long-term benefits! Upgrade ways to love your eyes anytime, anywhere!
✔ Uses safe air compression. Adopts kneading, trigger point therapy, and rhythmic percussion massaging to give you the gentle touch your eyes need. 
With 5 MASSAGER MODES TO RELIEVE EYE FATIGUE. Heat comes with 5 selectable preset massage modes.
Automatic mode

Motive mode

Eye help mode

Relieve mode

Sleeping mode
This can be selected according to individual needs & preferences by press the "on/off" key to adjust. It gives eyes acupoint massage to relieve eye fatigue, eye strains, dry eyes, and headache.
✔Designed to keep your eyes healthy and relieve all eye-related problems. Powerful Heating Massage, Intelligent Multi-Frequency Vibration Massage, and Circulating Air Pressuit can stimulate massage points more deeply and promote blood circulation. When the airbag is inflated and deflated in a sequence, rubbing 9 acupoint groups around the eyes, 15 minutes timer could help relax your eyes and relieve eye muscle stiffness, relieve eye fatigue, improve eye bags, dark circles, eye puffiness, and more.
✔ Portable, foldable, lightweight. It is a 180° foldable design that allows for easy portability so you can take it with you wherever you go. 
✔ Safe to Use. Made with eco-friendly skin-friendly material, soft PU leather, easy to clean.
✔ Ergonomic design. The curved nose bridge, designed according to ergonomics, is suitable for most face shapes, and the head belt is adjustable, can be worn from teenager to adult. 
✔ Bluetooth connection for music and a call. Has a built-in speaker inside will automatically play the prerecorded nature sound which could enhance relaxation. Allows you to connect to your song lists or realize the Bluetooth call function. (There will be some inevitable noise when Bluetooth calling).
✔ Fits most people that will be a great gift.
It's the perfect and classy solution if you want a life with healthy eyes, great sleep, and no more headaches.
PROTECT YOUR EYES ANYTIME, ANYWHERE!
NOTE:

Please remove the contact lenses beforehand. Do not use this product for people who have eye injuries, inflammation, or burns.