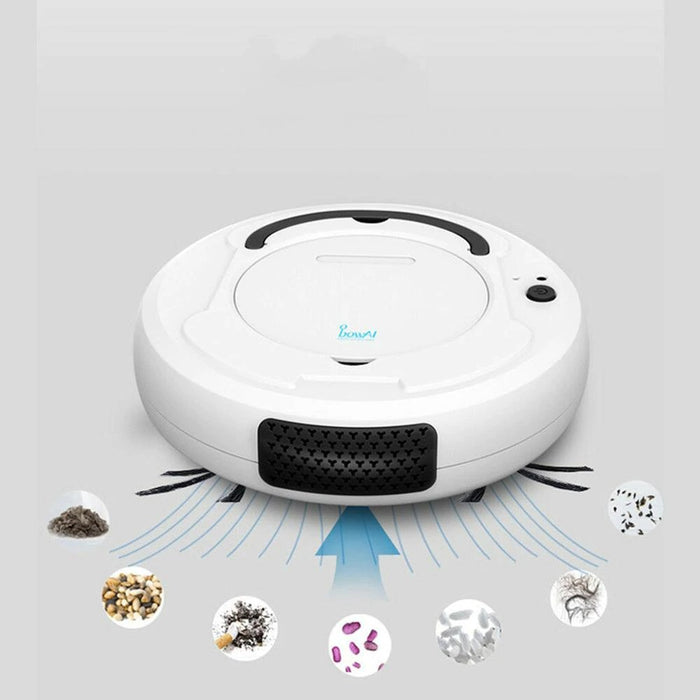 3 in 1 Robotic Floor Cleaner (Sweeps, Vacuums, & Mops)
Original price
$197.90
-
Original price
$197.90
30 Day Money back guarantee
Let's face it, maintaining clean floors every day is simply not an easy accomplishment. After a long day at work, it is a challenge to come home with the energy to manually sweep, vacuum, and mop. Now with this Robotic Floor Cleaner, you can have clean floors with the click of a button. Set it & forget it!
3 in 1 Cleaning
Built with dual roller brushes positioned low to the floor to sweep dust, crumbs, debris, pet hair, and more into the suction nozzle-designed vacuum. Finish the job off with a good mop, by soaking the included cotton absorbent rag in a cleaning solution of your choice. Then, simply mount it to the bottom.
Diligent AI
Guided by BowAI technology, this device detects edges to prevent falls and changes direction when an obstacle is encountered.
150m
² in 100 Minutes
Powered by a durable 3W 1200 MAH lithium battery. Total battery life (approx. 100 minutes) covers approx. 150m² of your floors. With a total charge time of 3 hours.
Low Operating Noise
Enjoy automated cleaning without the headache of obnoxiously loud vacuums. This hardware emits an operating noise of only 40 dB!

Size: 25.8 x 25.8 x 6.8 CM
Working Voltage: 3.7v/ 1200mah
Includes: 1 x Robot Vacuum Unit
                1 x USB charging cable
                1 x 3W lithium battery
                1 x Cotton-absorbent rag
                1 x Instructions manual
                2 x Roller brushes